Matthew McConaughey's New Movie Sounds Great, Involves An Elaborate Scheme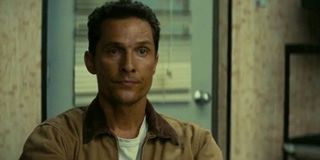 Matthew McConaughey's recent cinematic renaissance looks set to continue after it was confirmed that he'd become attached to The Billionaire's Vinegar, an intriguing tale of deception, wine and Thomas Jefferson.
Deadline was the first to reveal that the Academy Award-winning actor has signed up to star in The Billionare's Vinegar, which will come from Sony Pictures and revolve around an auctioned cache of wine bottles that were allegedly owned by Thomas Jefferson. It turns out that they actually never belonged to the third President of the United States, and this revelation soon leads to all-out mayhem.
Matthew McConaughey is the first actor to sign up for The Billionaire's Vinegar, but the producers and scribes involved suggest that he is in very good hands. The team of Todd Black, James Lassiter, Jason Blumenthal, Steve Tisch and Will Smith, who were previously behind The Pursuit Of Happyness and Seven Pounds, are producing.
While heartfelt and engaging, those two films did suffer from being overly melodramatic, and also teetered on the wrong side of corny. The fact that The Billionaire's Vinegar revolves around a conniving and devious protagonist leads me to believe that these issues could be eradicated. Especially since Matthew McConaughey will bring his gruff, tough yet still sensitive demeanor to the film. We hope, anyway.
The Billionaire's Vinegar has been written by Michael Brandt and Derek Haas (the screenwriting duo behind the likes of Wanted and 3:10 To Yuma), and from the sound of things, it will be a change of pace from their usual action-driven fare. Of course, we'll only really know what sort of film The Billionaire's Vinegar will be once a director has jumped on board. And with an in-form McConaughey on the books, you can imagine that plenty will now be putting their name forward to oversee the production.
Those of you who are already intrigued by premise of The Billionaire's Vinegar don't have to wait until the film hits cinemas to find out how the story unfolds. A book based on the real-life lawsuit by Bill Koch against Hardy Rodenstock was released back in 2009, entitled: The Billionaire's Vinegar: The Mystery Of The World's Most Expensive Bottle Of Wine.
In 1985, Bill Koch purchased a number of bottles of wine that were allegedly owned by Thomas Jefferson for $500,000. These bottles had been supplied by Hardy Rodenstock, a wine dealer/music manager. However the Thomas Jefferson Foundation soon decreed that the bottles hadn't actually been owned by Jefferson. Koch then paid $1 million to launch his own investigation into the bottles' origins, before suing Rodenstock.
Before he starts work on The Billionaire's Vinegar, the in-demand Matthew McConaughey has to finish Gus Van Sant's Sea Of Trees, while he's also shooting Gary Ross' Free State Of Jones, and is booked for Stephen Gaghan's Gold, as well. The busy sod.
Your Daily Blend of Entertainment News
Thank you for signing up to CinemaBlend. You will receive a verification email shortly.
There was a problem. Please refresh the page and try again.