Matthew McConaughey Is Probably In For The Stand, Get The Details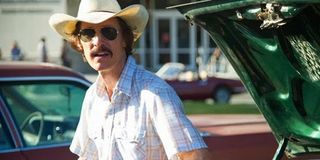 We have been waiting a long time for a new adaptation of Stephen King's The Stand to hit theaters. While it was originally speculated that David Yates and even Ben Affleck would direct the four-film adaptation, it looks like Fault In Our Stars director, Josh Boone, will be helming the film, and Matthew McConaughey might be starring in the film.
According to sources over at The Guardian, McConaughey could be taking on the role of the villain Randall Flagg in this newest adaptation of King's book from 1978. Randall Flagg is the story's main antagonist, and is described as a "grinning cowboy with supernatural powers" who lives and rules in the ruins of Las Vegas. I don't know about you, but I cannot think of anyone else to play a post-apocalyptic bad guy described as a grinning cowboy living in what is left of Sin City.
You can see McConaughey in theaters now in the epic drama, Interstellar, and interestingly enough, you can actually spot a copy of The Stand in the film. McConaughey has gone quite a long way from his days of rom coms and action flicks. He won an Oscar this year for his riveting performance in the film Dallas Buyers Club, and has been shaking up the small screen in his detective drama, True Detective. Though it's easy to to write McConaughey off as being an easy-going, silly Southerner, he has certainly proven that he has got some serious acting chops. I think he'll be able to bring something truly special to the role of Randall Flagg.
The last time Stephen King's 1200 page novel was adapted was all the way back in1994 when it came to the small screen as a mini-series starring Rob Lowe and Gary Sinise, It wound up being nominated for six Emmy awards, and won for both makeup and sound mixing. The mini-series format certainly fits the material, given how dense King's writing is, but hopefully a four-movie epic will be able to do it justice.
In addition to being several films long, the individual movies themselves could also be pretty long, with some reports saying that they could be up to three hours. However, with such a long, complex story that has been called the American Lord of the Rings and the "godfather of post-apocalyptic thrillers" chronicling the struggle between good and evil after a deadly virus wipes out most of the planet, it makes sense that it would take a lot of movie space to tell King's story in its entirety. We don't have a theatrical release date yet, but it sounds like the studio hopes to start production on The Stand next spring.
Your Daily Blend of Entertainment News