Matthew Vaughn Confirmed As X-Men: First Class Director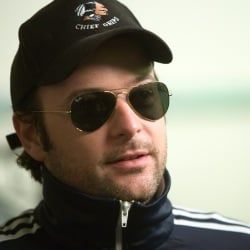 The news that hit last week about Matthew Vaughn potentially directing X-Men: First Class came with a lot of speculation, depending on who you asked. Had he recently been offered it? Had he already passed? No one seemed to know for sure, but it only took a few days for the story to settle itself: Deadline is reporting that Fox has officially signed Vaughn to direct the film, which has been given the very, very imminent release date of June 3, 2011.
Bryan Singer had some standard kind words to say about Vaughn in the press release, that "he has a deft hand with multiple characters and storylines, and a great love of the X-Men universe." I'm reading a hidden knock against Brett Ratner into that, but that may just be me. Production on the film is set to start this summer, which means we're about to see a flurry of casting announcements because, jeez, they've got to get this sucker made quick.
Despite all the superhero magic of Kick-Ass, Vaughn is still kind of an unconventional choice by studio standards, a director without an actual track record for hits and with too much experience to be pushed around by producers. Picking him, rather than a more generic or inexperienced directors, suggests Fox might be willing to actually make something of this X-Men edition, rather than writing it off after Bryan Singer bailed as a director. Here's hoping so far.
Staff Writer at CinemaBlend
Your Daily Blend of Entertainment News
Thank you for signing up to CinemaBlend. You will receive a verification email shortly.
There was a problem. Please refresh the page and try again.