Matthew Vaughn Options Thriller Novel Lexicon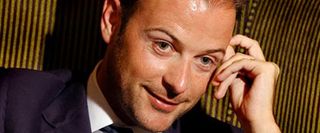 Producer turned writer-director Matthew Vaughn has built his reputation adapting a string of novels and graphic novels into films like Layer Cake, Stardust and Kick-Ass. And while he's currently in the works on a sequel to the comic-inspired X-Men: First Class, the English auteur has set his sights on his next adaptation, securing the rights to the Max Barry novel Lexicon.
Deadline reports Vaughn used his own bankroll to option the thriller novel that won't hit bookshelves until 2013. The novel is set in a modern context where "a secret, ancient, global organization" possesses the remarkable and dangerous gift of using words to such manipulating extremes that they can be lethal. The most gifted member of this elusive group of deadly diction dealers is a young woman who suffers a crisis of conscience when she breaks the cabal's most important rule by falling in love. So, in a world where words have the power to kill, is "I love you" the most dangerous phrase of all?
Vaughn is expected to write and direct the feature, and while there's no mention of his recurring collaborator Jane Goldman, it's safe to assume she'll be involved in Lexicon's development. After all, the pair have been near inseparable since 2007's Stardust. Still, this Vaughn adaptation is likely to be a few years down the road. But in the meantime, we do have his untitled X-Men sequel as well as the tenacious Kick-Ass 2 to look forward to, as both are moving briskly through preproduction. The former is on Fox's fast track, and the latter is set to shoot this fall, with Vaughn producing and Cry_Wolf helmer Jeff Wadlow directing.
Staff writer at CinemaBlend.