Meet The Dying Man Whose Last Wish Is To See The Hobbit 3 With His Family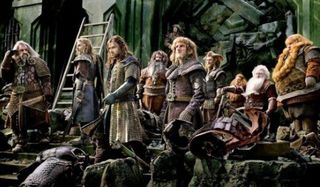 A family who have ritually watched The Hobbit together have pleaded with the internet to help them in their attempt to convince the makers of the fantasy epic to allow them to see the final instalment to the saga, The Hobbit: The Battle of Five Armies, before their terminally ill father dies. You can watch a YouTube video, which has been created by a family-member to create a bit of buzz and attention for their endeavour, below. It's a bit of heart breaker.
Unfortunately, the family, who are believed to be from the Midwest, near Chicago, don't believe that their father will live until December 17, 2014, which is when the film is released in the United States. But they haven't given up hope of watching it together, and they believe that if they can get enough people to support their endeavour Peter Jackson and Warner Bros. will allow them to see the fantasy-epic before it's released. The clip, which is entitled #HobbitMovieLastRequest, was created by account holder, Jessy Stouffer. In the about section she explains, "This video is a special request for my terminally ill father. If you could help by tweeting, posting to Facebook, or even Instagram, it would be amazing. Thanks for your time!"
You'd be a heartless soul if you didn't try and get this viewed by as many people as you possibly can, so you should click and share away to everyone that you can possibly think of. The first minute of the clip explains why this this would mean so much to the unnamed family. The text reads …
Of course, they then instruct you to spread the message across social media, before a series of emotional photographs of the terminally ill father and his adoring family end the clip. The Hobbit: The Battle Of The Five Armies is the film film of Peter Jackson's adaptation of J.R.R. Tolkein's The Hobbit, and it stars Ian McKellen, Martin Freeman, Richard Armitage, Benedict Cumberbatch, and Evangeline Lily. If just one of those individuals gets wind of the situation then they may help out in this worthy cause. Let's make this happen.
Your Daily Blend of Entertainment News