What Ian McKellen's Sherlock Holmes Movie Will Be About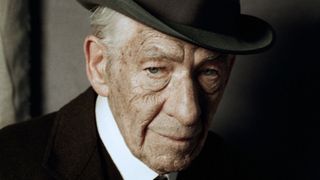 If Sir Arthur Conan Doyle were alive, I've no doubt he'd be thrilled with all the attention his iconic detective Sherlock Holmes is getting these days. Holmes has been the recent subject of hit movies with Robert Downey Jr., a popular BBC dramatic series, and the CBS show Elementary, which finds Watson gender-flipped into Lucy Liu. However, there's even more Holmes-ian goodness on the horizon with the recent announcement that Miramax has acquired domestic distribution rights to Bill Condon's Mr. Holmes.
The new feature reunites Oscar-winning director Condon with Gods and Monsters collaborator Ian McKellen to tell a tale of an older Holmes who wants to take one last crack at solving a case that confounded even him. Laura Linney co-stars. The script is based on Mitch Cullin's award-winning novel, A Slight Trick of the Mind.
Plot details reveal that an elderly Holmes spends the autumn of his life scarred by seeing the devastation of the atomic bomb drops on Japan. The detective returns home from the Land of the Rising Sun and becomes reclusive -- hiding away in his seaside home, where he tends bees. Laura Linney serves as his housekeeper, and she and her young son are Holmes' only companions. The sleuth eventually comes to rely on the boy to help him try to solve the case that forced him to hang up his famous deerstalker cap once and for all. Naturally, the investigator will learn a little something about life and love along the way…
Playing an older Sherlock seems like a perfect fit for Ian McKellen, who can add one more iconic character to a career roster that has seen the actor play everyone from Gandalf the Wizard in Peter Jackson's various Lord of the Rings and The Hobbit features, to mutant villain Magneto in the ongoing X-Men franchise. Holmes might be the best fit for the beloved actor, particularly a Sherlock in decline. McKellen has a genuine gift for bringing these sorts of nuanced characters to life, and his previous collaboration with Bill Condon has us extremely excited to see how the duo recreates a very familiar character in very unfamiliar circumstances.
Miramax feels the film will be a perfect fit for them, given its director and cast, and they will partner with Roadside Attractions to bring the film to American audiences – and hopefully catch the eye of awards voters in the process.
Roadside Attractions Co-President Eric d'Arbeloff was equally excited.
No word yet on when we might see Mr. Holmes take on his final case, but we'll keep you posted as new clues about the film's release date are revealed.
Your Daily Blend of Entertainment News
Thank you for signing up to CinemaBlend. You will receive a verification email shortly.
There was a problem. Please refresh the page and try again.