Meryl Streep, Rachel McAdams, Chris Pine For Star Trek Writer's Directorial Debut?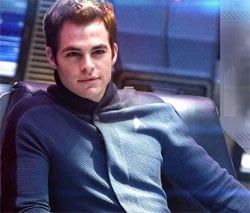 You know Alex Kurtzman as one of the most sought after writers in Hollywood. He co-wrote Mission: Impossible III, Transformers, and Star Trek along with a lot of really terrible movies that we'd all like to forget about like Transformers: Revenge of the Fallen. He's already established himself as a crack screenwriter, now he's taking a stab at directing with a movie called Welcome to People.
It's a title so vague it could be applied to almost any movie, but in this case it's a movie about a man who must deliver the $150,000 his deceased father has willed to a sister he never met. The movie's still in early pre-production but Production Weekly says they have a line on who he may be looking to cast on the film, and it's an A-list group. They say "Chris Pine, Rachel McAdams & Meryl Streep have been mentioned for the cast." I'm not sure what "mentioned" means exactly, I guess it means Prod Weekly reserves the right to be entirely wrong and means you should consider this nothing more than a rumor until there's an official confirmation.
That Kurtzman might be able to land Chris Pine makes sense, they probably have some sort of relationship after Star Trek. Kurtzman had a hand in making Pine a star. I'm not sure how he'd land Meryl Streep though. He's a first time director and it's not like Kurtzman has spent his career writing Meryl Streep quality movies. Much as I love Star Trek, it's not exactly her kind of film. Still if he gets any of them, that instantly makes Welcome to People a pretty big deal. Stick around CB for more on this as it develops.
Your Daily Blend of Entertainment News
Thank you for signing up to CinemaBlend. You will receive a verification email shortly.
There was a problem. Please refresh the page and try again.