Mia Wasikowska To Star In Chan-wook Park's Stoker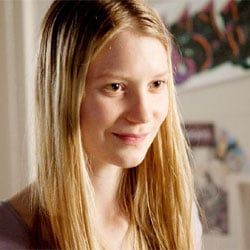 2010 was a good year for Mia Wasikowska, if only because everyone has finally learned how to spell her name. We've learned to spell her because of a pretty great performance in the not entirely great Alice in Wonderland and her ok performance in the mostly great The Kids are All Right. Now Hollywood's sort of in love with Mia, and the 21-year-old actress is piling up projects at a rapid pace. She's already in the upcoming films Jane Eyre, Restless, Albert Nobbs, and A View From The Bridge. Now here's one more to go on her IMDB page: Stoker.
Stoker is the latest from Korean Oldboy director Chan-wook Park. Though renowned for his bizarre, violent, Asian filmmaking sensibilities Park is going to work for Fox Searchlight where, he'll make a movie written by one of the stars of Prison Break. No really. Wentworth Miller wrote the script for Stoker, under the pseudonym of Ted Foulke. Now the Scott brothers (Ridley and Tony) are producing it. Apparently the guy's a pretty prolific writer, he's already written a Stoker prequel as well.
At one point Jodie Foster and Carey Mulligan were involved in Stoker, but they've been waved off. Deadline says that Mia's still in negotiations to star but if she signs, the film would have her playing an eccentric teen with a strange, long lost uncle who shows up after the death of her father. Then things get weird. If that sounds familiar, it's because this is also the plot of Lemony Snicket's a Series of Unfortunate Events. However, since this is a Fox Searchlight movie (the people who brought you James Franco cutting off his arm), and since Chan-wook Park is involved (a man whose most famous movie is about tricking a father into incest), be confident that any similarities are only superficial.
Your Daily Blend of Entertainment News