Michael Bay's Hidden Transformers 3 Message Teases Unicron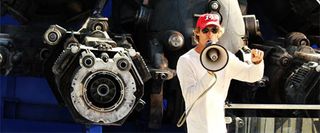 Anyone familiar with Michael Bay will know already that not only is he skilled at making flashy, pointless action movies, but he's also skilled at putting his erect ego into his own mouth and going to town. And now thanks to the crew over at Filmonic we get to see him at it again.
This two-minute clip is a hidden Easter Egg on the Transformers 2 DVD released on October 20th, and now, just as Bay expected, some little "cyber freak" (AKA any person over the age of two with a DVD remote) found the clip and put all kinds of effort into pointing a camera at his TV and playing back the clip so he could post it on the internet.
In the video, Bay mentions wanting to take a small break before Transformers 3, but we already know that he's working on TF3 with Ehren Kruger, since he made it a point to put out a press release. The clip does specifically show off Unicron, not necessarily because he'll appear in the next movie, but because the producers of the clip know that the only thing that tents the pants of Transformers kids more than Megatron is Unicron... and maybe Megan Fox.
If for whatever reason you're excited for Transformers 3 (I'm not sure why you would be) then check out the video below. But if you're a sensible human being and couldn't care less about it, still watch the video below and marvel at the cock suckery of Michael Bay.
Your Daily Blend of Entertainment News