Michael Caine Will Be Samuel L. Jackson's Butler In A New Comedy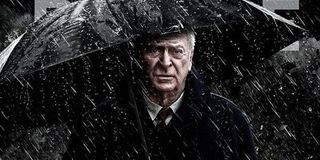 Over the course of Christopher Nolan's Dark Knight trilogy, Michael Caine played Alfred, who may well be the best-known butler in American pop culture. (Sorry, Mr. Belvedere.) Rather than bringing his posh British dignity to the care of another crippled superhero, Caine will be playing a butler to a drunken, newly minted millionaire in the forthcoming dramedy with Samuel L. Jackson. THR reports Jackson and Caine will front the funny feature Harry and the Butler as its two titular leads, respectively.
Heralded stage and screen director George C. Wolfe (Nights in Rodanthe) will helm the project, which centers on the friendship that blossoms between two very different men. Harry is a former jazz virtuoso turned unreliable rollercoaster mechanic who lives in a forgotten train caboose in New Orleans. But after a drunken night celebrating an unexpected and massive inheritance, Harry finds he's hired a down-on-his-luck British butler to work for him. Damian F. Slattery wrote the screenplay, adapted from the 1961 Danish comedy Harry og Kammertjeneren. Check out it's trailer below:
This isn't the first time this American remake has been attempted. In a prior incarnation, Morgan Freeman and Anthony Hopkins were attached to star as Harry and the Butler. As fantastic as those two are, I'm far more intrigued by the pairing of Caine and Jackson.
Both have worked in a wide range of genres, from superhero adventures (The Dark Knight vs. every recent Marvel movie), to revenge thrillers (Harry Brown vs. Django Unchained), science-fiction (Children of Men vs. Jurassic Park), and of course comedies (Austin Powers: Goldmember vs. The Other Guys. And both have proved prolific, appearing in over 150 film and television shows to date. It should be tons of fun to see these two charismatic stars face off, though technically it would not be the first time.
Back in 1990, Jackson had a small role in Caine's twisted comedy A Shock to the System. While Caine starred as a murderous exec, Jackson had a bit part as a three-card monte player called Ulysses.
Radiant Films will be pitching Harry and the Butler to foreign buyers at the American Film Market this week. With adult-skewing dramas dominating the box office of late (Hello, Gravity) it's expected this film will be a hotly sought property. Production is set to kick off in Louisiana in the spring of 2014.
Staff writer at CinemaBlend.
Your Daily Blend of Entertainment News
Thank you for signing up to CinemaBlend. You will receive a verification email shortly.
There was a problem. Please refresh the page and try again.