Michael Douglas Credits Big Dick For His Long Career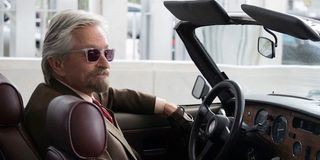 Michael Douglas has had a long, illustrious career on screen. With prime roles and strong performances dating back to the 1960s, it would be easy to attribute this success to hard work, dedication to craft, or even being born into the business, but he credits something else: his big ol' penis.
According to Page Six, at a party for his latest cinematic endeavor, as Hank Pym in Marvel's upcoming Ant-Man, Douglas fielded an off-the-cuff question about the key to his superstardom. An interviewer from Vanity Fair noted that the recently deceased Omar Sharif was known for a gap in his teeth, while Douglas' own father, legendary actor Kirk Douglas, was practically synonymous with his prominent cleft chin. Douglas wasted no time giving credit where credit is due, replying with:
And then he simply walked into the crowd and melted away.
Seriously, after you deliver an on-point reply like that, you don't need to say another damn word. This is like Michael Douglas' version of dropping the mic, and even though he's talking about his own genitals, there's still something classy and almost elegant about his response. That probably has to do more with Douglas and how we imagine he delivered this quip than the actual subject matter, but we can't be entirely certain. You also have to wonder just how he used this…ahem...particular tool to achieve his superstardom, but perhaps it just serves as a source of confidence, something he can turn to in moments of insecurity.
When Ant-Man hits the screen this weekend, the tale of Marvel's tiniest superhero (played by Paul Rudd) will likely introduce Douglas to a whole different demographic that he is likely use to. Which is awesome, we need more badass older gentlemen actors on screen, and he's kind of following in Robert Redford's footsteps, as the Sundance Film Festival founder and legendary actor also appeared in a recent Marvel joint, Captain America: The Winter Soldier. (Now if they could only cobble together a few more good roles for women.)
In Ant-Man, Douglas plays Hank Pym, a scientist who enlists the help of skilled, notorious thief, Scott Lang (Rudd), to help him retrieve some valuable technology he invented. His work has fallen into the wrong hands, and Pym is afraid that the results could be disastrous to the fate of the world. So, you know, no stakes or anything like that.
While we know that we'll be seeing more of Ant-Man next year in the superhero-laden Captain America: Civil War, we don't know when, or even if, we'll see Michael Douglas and his huge penis again in a Marvel movie. Fingers crossed folks.
Go see Ant-Man when it hits theaters tomorrow, Friday, July 17.
Your Daily Blend of Entertainment News