Michael Douglas Is A Sex Addict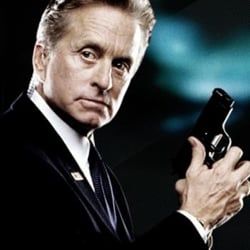 Believe it or not, Michael Douglas has become interesting again. A week after signing on to star as Liberace in Steven Soderbergh's biopic, he's now agreed to play a car dealership owner with a sex addiction. I'm tempted to say "How cool is that!" except that sounds a little wrong, so let's just celebrate the fact that Douglas is taking on what seem like interesting, challenging roles, rather than settling down into the easy money "old coot" parts.
Variety says Susan Sarandon, Danny DeVito and Jenna Fischer will join Douglas in Solitary Man, with Soderbergh collaborators Brian Koppelman and David Levien directing the screenplay that Koppleman wrote. Jenna Fischer has had atrocious luck with all of her post-Office movie roles, but maybe the charmed hand of Soderbergh here (he's a producer) can turn the luck around. It's already making me respect Douglas in a way I haven't since Y2K.
Your Daily Blend of Entertainment News
Staff Writer at CinemaBlend