Michael Fassbender May Play A Gangster In Trespass Against Us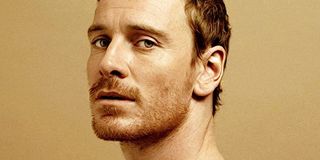 Since 2009 when he treated audiences to a double dose of brooding swagger in Fish Tank and Inglourious Basterds, Michael Fassbender has been a hotly sought after star. Since then landing lead roles in big flashy Hollywood fair like X-Men: First Class and Prometheus hasn't kept him from tackling risky indies like Shame, where he was forced to bare all, and the upcoming Frank, where he was asked to hide his insanely handsome face altogether. It seems clear that Fassbender is more interested in risky endeavors than he is sure bets, so it makes sense he's not shying away from the narrative feature debut of music video and TV director Adam Smith.
Variety reports Fassbender has entered into negotiations to front Smith's gangster-centered drama Trespass Against Us. The screenplay penned by Alastair Siddons follows the trials and travails of the Cutler family, who over three generations live as outlaws, poaching for game, robbing affluent households, and sneering at police authority. But their twisted family ties become too much for Chad Cutler, who begins to look for a way to break away from his family and out of the criminal life and legacy they hold dear. Should he sign on, Fassbender would play reluctant thug Chad.
While Trespass Against Us marks Smith's first narrative film, he has helmed a string of episodes of British shows like the teen soap opera Skins, the romantic drama mini-series Little Dorrit, and the cult phenomenon Doctor Who If Fassbender commits to the project it will be his first collaboration with Smith. But some of Smith's past collaborators have already signed up to give Trespass Against Us a dynamic soundtrack.
The Chemical Brothers, whose spectacular Fuji Rock Festival concert was the focus of Smith's documentary The Chemical Brothers Don't Think will be creating the score for Trespass Against Us. Their lauded reputation, which includes four Grammy Awards, will likely help sell the filmat the American Film Market next week, where producers Protagonist Pictures will look for pre-sale distributors. Of course, word that Fassbender could join the pic certainly won't hurt either.
Trespass Against Us is scheduled to begin production in the United Kingdom in 2014. In the meantime, Fassbender is at work shooting the Western Slow West in New Zealand with writer-director John Maclean. Then in January of next year, he'll portray the title character of Macbeth in a movie adaptation co-starring Marion Cotillard. But why wait for those movies, when Fassbender can be seen in theaters now, either in the critically celebrated 12 Years a Slave or in the critically reviled The Counselor.
Staff writer at CinemaBlend.
Your Daily Blend of Entertainment News
Thank you for signing up to CinemaBlend. You will receive a verification email shortly.
There was a problem. Please refresh the page and try again.