Michael Fassbender Might Join Natalie Portman In Jane Got A Gun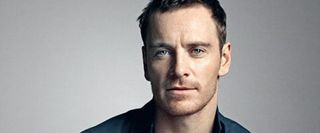 Since grabbing international notice with his tour de force performance in Steve McQueen's heralded historical drama Hunger in 2008, Michael Fassbender has been on a meteoric rise of fame and acclaim. Since then, he's been a hotly sought after talent, pursued by such celebrated auteurs as Quentin Tarantino (Inglourious Basterds), David Cronenberg (A Dangerous Method), and Steven Soderbergh (Haywire). But despite headlining such major releases as X-Men: First Class and Prometheus, Fassbender's been quick to reteam with McQueen on indie efforts like Shame and the forthcoming Twelve Years a Slave.
Further proof that Fassbender isn't lost to indie film may be found in his latest rumored attachment. Vulture has got word that the brooding heartthrob has entered into negotiations to star opposite Natalie Portman in Jane Got a Gun, writer-director Lynne Ramsay's follow-up to the remarkable and haunting We Need to Talk About Kevin. Notably, Jane Got a Gun's 2011 Black List-selected screenplay was not penned by Ramsay, but by up and coming scribe Brian Duffield. The film is a western that centers on a woman (Portman) who must defend her farm from a violent gang that has already left her husband full of bullet holes and close to death. Should Fassbender sign on, he'd play the protagonist's former lover whom she reluctantly calls upon for help.
To be perfectly frank, the possibility of Portman, Fassbender and Ramsay collaborating on a film together is devastatingly thrilling to me. Ramsay has proven to be a provocative and powerful storyteller who was able to take even the incomparable Tilda Swinton to awe-inspiring depths with We Need to Talk About Kevin. As for Portman, though she sometimes dabbles in blithely commercial features, she re-affirmed her stunning talent and fearlessness with 2010's Black Swan. And it's hard to think of a contemporary actor more drawn to risky endeavors than Fassbender. Just imagine the sexual tension these two could muster onscreen! Essentially, if Fassbender does sign on to Jane Got a Gun, Ramsay's next feature will easily cement itself on mine—and I suspect many others'—most anticipated releases of 2014.
Michael Fassbender is now in production on Ridley Scott's The Counselor. Jane Got a Gun is expected to shoot early next year.
Staff writer at CinemaBlend.
Your Daily Blend of Entertainment News
Thank you for signing up to CinemaBlend. You will receive a verification email shortly.
There was a problem. Please refresh the page and try again.