Michael Hoffman Up To Direct Nicholas Sparks Romance Best of Me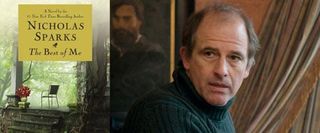 The romance novels of Nicholas Sparks have proved bankable sources of inspiration for glossy star-studded adaptations like The Notebook, The Last Song, and The Lucky One. With modest budgets, plenty of romance and hunky male leads, each has lured in enough female moviegoers to be an unquestionable box office hit. So, it was less than shocking when Warner Bros. bought the rights to Sparks' latest novel Best of Me before a word of it was written. By this point, Sparks' name alone is worth the costs of acquisition.
Now on sale, the book The Best Of Me focuses on the love story of Amanda Collier and Dawson Cole, two North Carolina teens from opposite sides of the tracks who were deeply devoted, but forced apart the summer of their senior year. But that's not where their romance ends. 25 years later each returns to their hometown to attend the funeral of a much-admired teacher. While they initially try to ignore their still burning desire for each other, their teacher's last wish spurs them to discover some secrets of their past that could unite them yet.
Personally, I'm not much a fan of Sparks' brand of overzealous, tear-streaked romance. However, I find Deadline's report that Warner Bros is courting director Michael Hoffman to helm The Best of Me intriguing.
Hoffman, who most recently helmed the crime caper penned by Joel and Ethan Coen Gambit, has directed several compelling romances including the racy rom-com Soapdish, the enchanting 1999 adaptation of Midsummer Night's Dream, and the underseen but heartbreaking The Last Station, which revealed the marital troubles between Russian author Leo Tolstoy and his frustrated but devoted wife Sofya. I'd recommend each of these movies in a heartbeat, because while their tones are very different, they each contain vivid character arcs and an enveloping atmosphere that makes their tales of love deeply poignant and often thought provoking. Simply put, if Hoffman signs on, the Sparks' subgenre could get a welcomed upgrade.
The Best Of Me is currently in development. The Lucky One scribe Will Fetters is in talks to polish the screenplay penned by J. Mills Goodloe (Pride).
Staff writer at CinemaBlend.