Michael Winterbottom Says Amanda Knox Trial Movie Isn't About Murder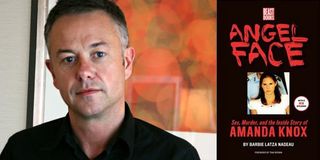 With details of murder, sex, and an accused American with "the face of an angel", the trial of Amanda Knox became a media sensation, not just in Italy where it took place, but all around the world. Yet English director Michael Winterbottom says its not Knox or her headline-grabbing trial that will be the focus of his docudrama The Face of an Angel. While attending the Odessa Film Festival in the Ukraine, the director of such harrowing dramas as A Mighty Heart and The Killer Inside Me told THR:
It's unclear whether the daughter Winterbottom refers to is Knox, who spent nearly four years in jail awaiting trial then awaiting the successful appeal that released her in 2011, or if this lost daughter refers to the murdered Meredith Kercher, a British college student who was brutally killed during her study abroad trip to Italy. However, Winterbottom's assertion that his focus will not be on the Knox trial mirrors early reports about the project from 2010, when Colin Firth was considered for a part as a journalist in Winterbottom's in-development drama based on Rome-based American journalist Barbie Latza Nadeau's book Angel Face: Sex, Murder, and the Inside Story of Amanda Knox.
At the time, Winterbottom made it clear he wasn't concerned about guilt or innocence of Knox and her alleged accomplices, saying, "I have no view on whether they did it, the film will not be about that. There is unlikely to be a character playing Knox." For him, the more compelling part of this perplexing story was how the media handled the case and the story they created. "There was no explanation that covered everything," Winterbottom offered, "And the journalists were drawn in in a way you would not expect." In Odesssa, Winterbottom restated that his film will examine how the press approaches news concerning murder, loss and violence. It's unclear how Knox will factor into the narrative at this point, but we could learn more when casting begins. For now, there's no new mention of Firth's involvement.
For another take on the Knox trial, here's the trailer from the Lifetime TV movie, Amanda Knox: Murder On Trial In Italy.
In the meantime, Winterbottom will be digging into post-production on his first-ever sequel, The Trip to Italy. The film which marks his sixth collaboration with Brit wit Steve Coogan continues the self-mocking adventures of Coogan and onscreen comedy rival Rob Brydon that began with the sly 2010 mockumentary The Trip. The recently wrapped film is expected to hit theaters next year.
Staff writer at CinemaBlend.
Your Daily Blend of Entertainment News
Thank you for signing up to CinemaBlend. You will receive a verification email shortly.
There was a problem. Please refresh the page and try again.