Michelle Williams And Joel Edgerton To Get Intimate In The Double Hour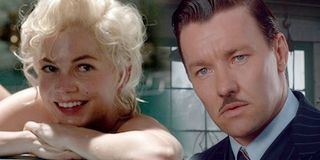 Since he broke through in 2010 with the Australian crime drama Animal Kingdom, Aussie Joel Edgerton has been steadily forging a reputation as a captivating actor. From Academy Award-nominated follow-ups like Warrior and Zero Dark Thirty to more mainstream fare like Baz Luhrmann's flashy adaptation The Great Gatsby, Edgerton is gaining momentum. (I'd argue he's the best part of Gatsby, bringing a surprising depth and sex appeal to the mostly loathsome character Tom Buchanan.) Deadline reports he'll soon be stepping up to play a romantic lead opposite Michelle Williams in The Double Hour.
A remake of an Italian psychological thriller starring Kseniya Rappoport and Filippo Timi, The Double Hour centers on a pair of lovers (Williams and Edgerton) who meet during a speed dating event. She's a maid; he's a former cop, and soon they are on their way to a romantic weekend in a country cottage. However, once they arrive their amorous intentions are interrupted when the pair are ambushed by a gang of ruthless thieves. Maria Full of Grace's writer and director Joshua Marston has adapted the screenplay and will helm The Double Hour remake.
Edgerton and Williams seem like a great fit. He's got a mesmerizing charm with a dash of danger that ought to spark with Williams' glowing screen presence. Considering sex is a key motivation in this feature, this could be her raciest movie since Blue Valentine. For now it's unknown when The Double Hour will shoot. In the meantime, Edgerton is at work on the troubled production Jane Got a Gun, and Williams is being eyed for a South Pacific remake.
Check out the trailer for the original (complete with English subtitles) below:
You can watch the original Double Hour now on Netflix Instant (opens in new tab).
Staff writer at CinemaBlend.
Your Daily Blend of Entertainment News
Thank you for signing up to CinemaBlend. You will receive a verification email shortly.
There was a problem. Please refresh the page and try again.