The Best Michelle Williams Movies And How To Watch Them
Michelle Williams is more than deserving of an Oscar...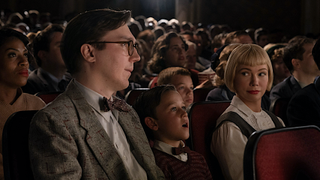 (Image credit: Universal Pictures)
Michelle Williams could very well be the most underrated actress in Hollywood today. Sure, she's been nominated for five Oscars, won two Golden Globes, and been in some of the most impactful movies of the 21st century, but Williams seems to always fly under the radar, only to fly up unnoticed with the release of each Academy Award-nominated performance that seemingly catches everyone by surprise.
We shouldn't be surprised, though. Not in the slightest. The list of the best Michelle Williams movies and TV shows streaming is one that goes back a little over two decades at this point, with outstanding performances ranging from a symbiote superhero to a slight dramatization of Steven Spielberg's mother. To celebrate Williams, we've put together a quick list of the very best performances from her incredibly versatile career.
The Fabelmans (2022)
Told through a series of vignettes, Steven Spielberg's semi-autobiographical coming-of-age drama, The Fabelmans, takes audiences back to where it all began for Hollywood legend. The good, the bad, the magical, and the heartbreaking are all on display in this sprawling drama about a young boy finding his voice while his family falls apart.
Michelle Williams is the real scene-stealer in The Fabelmans, with her portrayal of Mitzi Schildkraut-Fabelman, a character based on Spielberg's late mother, Leah Adler. She is a tour de force in several of the movie's most memorable scenes, including the tornado chase sequence, the camping trip, and during a foreboding nightmare about a certain family member.
Rent/buy The Fabelmans on Amazon. (opens in new tab)
Buy The Fabelmans on Blu-ray on Amazon. (opens in new tab)
Manchester By The Sea (2016)
Kenneth Lonergan's Oscar-winning Manchester by the Sea is in the running for the most gut-wrenching movie of the century with its heartbreaking story about an already broken man trying to come to terms with the death of his older brother, which leaves him the guardian of his teenage nephew. That is just part of the story, however.
Casey Affleck received heaps of praise for his portrayal of Lee Chandler, and rightfully so, but Michelle Williams' take on his ex-wife, Randi, is one of the most heartbreaking and harrowing performances I've ever seen. The scene in which Randi finally opens up to Lee about their shared tragedy is without a doubt the most powerful speech of her career.
Stream Manchester by the Sea on Prime Video. (opens in new tab)
Rent/Buy Manchester by the Sea on Amazon. (opens in new tab)
My Week With Marilyn (2011)
Set during the heights of Marilyn Monroe's (Michelle Williams) career, Simon Curtis' 2011 biographical drama, My Week with Marilyn follows the ill-fated actress as she is given a brief respite from her career, her shaky marriage to Arthur Miller (Dougray Scott), and the exhaustion brought on by both.
Williams would go on to win her first Golden Globe and be nominated for an Oscar for her captivating portrayal of Monroe, a performance that is in the top tier of portrayals of the Hollywood starlet, and at times, it feels as if this is a documentary instead of a painstakingly crafted docudrama.
Stream My Week with Marilyn on HBO Max. (opens in new tab)
Rent/buy My Week with Marilyn on Amazon. (opens in new tab)
Buy My Week with Marilyn on DVD on Amazon. (opens in new tab)
Blue Valentine (2010)
Told through a nonlinear narrative structure, Derek Cianfrance's 2010 drama, Blue Valentine, jumps between past and present to tell the story of Dean (Ryan Gosling) and Cindy (Michelle Williams), a couple with a string of bad luck and major blowups.
Though the movie does tear you down emotionally with one grueling scene after another, the performances by Williams and Gosling make it to where you just can't stop watching. You won't find it on the list of best romantic comedies or anything like that, but this Oscar-nominated drama is something you just have to see, even if it's only once, and even if it's just to see Williams and Gosling feed off one another's grief and anger.
Stream Blue Valentine on Freevee. (opens in new tab)
Rent/buy Blue Valentine on Amazon. (opens in new tab)
Buy Blue Valentine on Blu-ray on Amazon. (opens in new tab)
Shutter Island (2010)
Though it just missed the cut on the list of best Martin Scorsese movies, the acclaimed filmmaker's 2010 psychological thriller, Shutter Island, is a movie you just can't afford to miss. Set at the isolated Ashecliff Hospital for the Criminally Insane, the movie follows U.S. Marshal Teddy Daniels (Leonardo DiCaprio) as he tries to get to the bottom of a missing persons case, or so he believes.
Here's another example of Michelle Williams being the emotional anchor of a movie with her heartbreaking portrayal of Dolores, Teddy's late wife, who haunts him in his dreams through intense visions. To prevent giving away the Shutter Island ending, I'll just say that Williams' performance only gets better as the movie goes on.
Rent/buy Shutter Island on Amazon. (opens in new tab)
Buy Shutter Island on Blu-ray on Amazon. (opens in new tab)
Brokeback Mountain (2005)
Ang Lee's 2005 neo-Western drama, Brokeback Mountain, details the tumultuous relationship shared by rugged cowboys Ennis Del Mar (Heath Ledger) and Jack Twist (Jake Gyllenhaal) over the course of several decades as they try to hide their true feelings from their respective families, their fellow sheepherders, and themselves.
The movie did take home three Oscars, but Brokeback Mountain should have won Best Picture for its transformative story and incredible performances by its two leads, as well as Michelle Williams and Anne Hathaway. Williams is particularly powerful in her portrayal of Ennis' wife, Alma, and was given plenty of time to show her expansive acting skills in some of the movie's key scenes.
Stream Brokeback Mountain on Netflix. (opens in new tab)
Rent/buy Brokeback Mountain on Amazon. (opens in new tab)
Buy Brokeback Mountain on Blu-ray on Amazon. (opens in new tab)
Synecdoche, New York (2008)
Charlie Kaufman's mind-bending psychological drama, Synecdoche, New York follows theater director Caden Cotard (Philip Seymour Hoffman) as he deals with the recent departure of his wife and daughter by hiring a group of actors to create a fictionalized version of society in a massive New York City warehouse. Over time, the production grows to the point where the line between reality and fantasy is nowhere to be found.
Synecdoche, New York is full of brilliant performances, including those from the late Philip Seymour Hoffman, Dianne Wiest, Emily Watson, Catherine Keener, and Michelle Williams, who plays an actress who enters into a relationship with the struggling theater director.
Rent/buy Synecdoche, New York on Amazon. (opens in new tab)
Buy Synecdoche, New York on Blu-ray on Amazon. (opens in new tab)
The Station Agent (2003)
Tom McCarthy, who would go on to direct Academy Award-winning newspaper drama Spotlight more than a decade later, made his directorial debut with 2003's The Station Agent, a dramedy about a young and nihilistic train enthusiast named Fin McBride (Peter Dinklage) as he moves to a small rural town in New Jersey.
The movie features a who's who of future stars including the aforementioned Dinkalge, Bobby Cannavale, and John Slattery, and Michelle Williams, the latter of whom is phenomenal in her portrayal of a local librarian named Emily. Though not the central character, Williams steals the show whenever on camera.
Stream The Station Agent on Paramount+. (opens in new tab)
Rent/buy The Station Agent on Amazon. (opens in new tab)
Take This Waltz (2011)
A little more than a decade before writing and directing the Academy Award-nominated Women Talking, Sarah Polley came out with the 2011 romantic drama, Take This Waltz, which saw Michelle Williams play a woman named Margot, who finds herself being torn between her husband, Lou (Seth Rogen) and a mysterious stranger named Daniel (Luke Kirby) she met on a work trip.
Both charming and tense, the film features stellar performances from all involved, Williams especially. And if you were a fan of the dynamic shared by Williams and Rogen in The Fabelmans, this is something you want to see.
Stream Take This Waltz on HBO Max. (opens in new tab)
Rent/buy Take This Waltz on Amazon. (opens in new tab)
Buy Take This Waltz on Blu-ray on Amazon. (opens in new tab)
Wendy And Lucy (2008)
Kelly Reichardt's 2008 drama, Wendy and Lucy (which is a brisk 80 minutes in length) follows Wendy Carroll (Michelle Williams) as she attempts to make it to Alaska with her dog, Lucy, so that she can find work and make a better life for herself. But hopes, dreams, and aspirations are no match for the harsh realities of poverty and the unforgiving road, which Wendy finds out the hard way on her cross-country odyssey.
Though not talked about as much as some of Williams' higher-profile movies, Wendy and Lucy features one of her best performances to date, one that features one of her rawest and most vulnerable characters. Plus, it's one of the best dog movies of the past decade-and-a-half.

Stream Wendy and Lucy on Peacock. (opens in new tab)
Rent/buy Wendy and Lucy on Amazon. (opens in new tab)
Buy Wendy and Lucy on DVD on Amazon. (opens in new tab)
Dawson's Creek (1998 - 2003) And Fosse/Verdon (2019)
These final two performances are technically TV shows, but both are musts when talking about Michelle Williams' career, and leaving them off would be a disservice to her legacy. First is Dawson's Creek, which is undeniably one of the most iconic '90s shows. Throughout the series six-season run, Williams played Jen Lindley, Dawson's (James Van Der Beek) neighbor and close friend with whom she has an on-and-off relationship.
Stream Dawson's Creek on Prime Video. (opens in new tab)
Buy Dawson's on Amazon. (opens in new tab)
Buy Dawson's Creek: The Complete Series on DVD on Amazon. (opens in new tab)
Williams would have one-off TV appearances over the years, but she wouldn't return to the format in a more involved manner until the 2019 biographical limited series, Fosse/Verdon, which chronicled the romantic and working relationship shared by Bob Fosse (Sam Rockwell) and Gwen Verdon (Williams). The actress would go on to win multiple awards for her performance, including a Primetime Emmy and a Golden Globe.
Stream Fosse/Verdon on Hulu. (opens in new tab)
Buy Fosse/Verdon on Amazon. (opens in new tab)
Buy Fosse/Verdon on DVD on Amazon. (opens in new tab)
Related
2023 New Movie Release Dates: Full Schedule Of Upcoming Movies
Only time will tell if Michelle Williams will hear her name called at the 2023 Oscars. Even if she's not rewarded for her incredible performance in The Fabelmans, though, Williams has quite the body of work that makes a case for her being one of the best actresses of her time.
Your Daily Blend of Entertainment News
Philip grew up in Louisiana (not New Orleans) before moving to St. Louis after graduating from Louisiana State University-Shreveport. When he's not writing about movies or television, Philip can be found being chased by his three kids, telling his dogs to stop yelling at the mailman, or yelling about professional wrestling to his wife. If the stars properly align, he will talk about For Love Of The Game being the best baseball movie of all time.