Mickey Rourke Won't Be Back For Expendables 2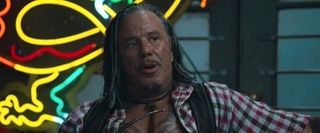 For one Expendables cast member, that title has proved all too accurate when it comes to the sequel. Deadline is reporting that Mickey Rourke, who played an old friend and former teammate of Sylvester Stallone's Barney Ross in the 2010 action hit, will not be returning for the 2012 sequel.
Despite his part being singled out as one of the better elements of the first film, he was hardly indispensable, and I think the already enormous cast will probably soldier on just fine without him. Assuming Stallone and company can manage to stir together the same alchemical recipe as the first film: explosions, guns, testosterone, and painfully manly dialogue. If they run up against a wall, just throw the '80s section of Stallone's filmography into a blender, then cut and paste as needed.
Rourke won't be sitting idle in the mean time, however. The reason he's ducking out of Expendables 2 is because he's in negotiations to join Seven Psychopaths, the next movie from In Bruges writer/director Martin McDonagh. If you saw In Bruges, I shouldn't need to tell you anything else to get you excited. If you haven't, then stop reading this and remedy that immediately. (Or, failing that, you could read Eric's piece about Colin Farrell's outstanding performance as regretful hitman Ray.)
Rourke will join a reunited McDonagh and Farrell for Seven Psychopaths, which tells the story of a screenwriter (Farrell) who's struggling to finish a new script. He finds more inspiration than he could possibly hope for after getting involved in a high-profile dognapping (shut up, that's totally a thing). The cast also includes Christopher Walken and Sam Rockwell, and man, this thing just keeps sounding better the more I type. Then again, In Bruges was one of my favorite movies of recent years, so the cast could be composed entirely of lemurs and I'd still be psyched.
One film's loss may be another's gain, but we'll get to judge for ourselves when they arrive next year. Expendables 2 is due on August 17th, while Seven Psychopaths is just slated for sometime in 2012.
Your Daily Blend of Entertainment News
Thank you for signing up to CinemaBlend. You will receive a verification email shortly.
There was a problem. Please refresh the page and try again.