Mike Leigh's Oscar Hopeful Mr. Turner Grumbles More Than The Boxtrolls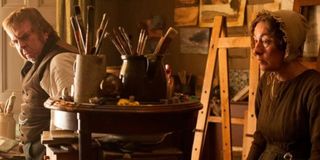 English director Mike Leigh has won acclaim for dramas like Secrets & Lies and Vera Drake, as well as praise for more convivial fare like Happy-Go-Lucky and Topsy-Turvy. Now, this seven-time Oscar nominated writer-director heads to the New York Film Festival with his latest, a biopic that dabbles in drama and cartoonish humor to tell the tale of the unconventional and often coarse J.M.W. Turner, who bangs about canvases, slams doors, and roughly gropes his housekeeper -- all within his first sequence!
Going into Mr. Turner, all I knew of the titular man was that he was a painter, and he was to be portrayed by Timothy Spall, a talented actor best known for playing the deceitful rat Wormtail in the Harry Potter movies. Unfortunately for me, Leigh's biopic is not made for newcomers to Turner's tumultuous life story. The audience is thrown straight into the latter years of his odd little life that centers around painting landscapes that radiate with emotion.
As he rushes to his canvas with fingers, claws, spit and elbows, the film rushes to introduce us to a slew of characters, many haphazardly. Some Googling after my Mr. Turner screening shattered my illusions that one character was his wife (she was just the mother of his illegitimate daughters), and another had contracted an STD from him (it was just a horrendous skin condition). At 150 minutes, Mr. Turner is a beast of a film, yet Leigh rarely allows a moment for exposition lines that would clearly establish who's who or why a given action raises such a fuss.
It's not as confounding as another highly anticipated NYFF selection. But without a bit more explanation, I often felt like I was reading a book of which a chapter was missing. And the gruff persona of Spall's Turner doesn't much help smooth the film's pernicious edges. He is nearly all growls, grumbles and groans, more an animal than gentleman much of the time. Having recently watched (and loved) The Boxtrolls, I chuckled imaging how well Mr. Turner and these Dickensian grunters would carry on.
This is not to say Spall's performance is isolating. It's actually remarkable how much meaning and emotion he's able to wedge into a gurgle or grimace. However, where some films of late have been overstuffed with explanatory voiceover, I was hungry for a bit more extolling on the details of this man's life. Instead, Leigh presents flashes of his trials and triumphs of this British painter who riled his peers and was revered and reviled in turn. His story was intriguing, but not terrible accessible.
However, there's an alluring poetry to Mr. Turner. The colors of the film aim to mimic the curious palettes Turner chose for his various seascapes. And while I've never personally held much interest in landscape painting, the capturing of Turner's process--which as mentioned often involved a very undignified painting process and occasionally, brazenly some freshly hawked mucus--makes for compelling cinema, as do the reveals of his fiery masterpieces.
Bringing color of another kind to this painter's tale is an ensemble class who happily offers over the top caricatures that play well into the droll humor of this British drama. Dorothy Atkinson is an offbeat delight as the nosey housekeeper who leads with her nose whether she's sniffing for a tryst with her rutting boss or sneering at his would-be buyers. Playing a swaying and bubbly scientist, Lesley Manville brings literal light to the narrative in a scene that has no relevance on the narrative, but is nonetheless a charming addition. Ever-flustered and always self-defeating is the explosive Benjamin Haydon, played by Martin Savage with a comic victimhood. And lastly, Marion Bailey is in turn heartbreaking and warmly funny as Turner's last love, an innkeeper who fell for him with no idea of his status.
Leigh's made a lovely film about an uncompromising painter, who at times was at best an unpleasant man and at worse an asshole. Mr. Turner is the kind of movie that would be a pleasant watch on a rainy Saturday…but one where you've got a Wikipedia page conveniently open near by to serve as footnotes.
Mr. Turner plays as part of the New York Film Festival. It'll open in limited release on December 19th.
Your Daily Blend of Entertainment News
Staff writer at CinemaBlend.