Mississippi Grind Trailer Is Dirty, Sleazy, And Really Funny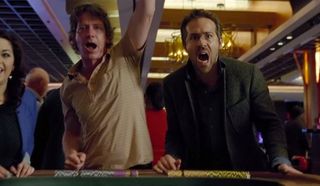 The road trip picture and the gambling movie come together in the Ryan Reynolds and Ben Mendelsohn-starring Mississippi Grind. After premiering at the Sundance Film Festival earlier this year, it's finally getting a proper release, and distributors A24 just released this dirty, sleazy, really funny trailer. Check it out for yourself.
The story revolves around Gerry (Mendelsohn), a talented gambler who, despite his skills, has fallen into a bit of a rough patch and owes all of the money to everyone around him. His luck takes a remarkable upswing, however, when he meets a charismatic young poker player named Curtis (Reynolds). In short order, the two develop a friendship and, from the look of this trailer, a business arrangement, and embark on an epic gambling jag. They make their way down the Mississippi River to a "legendary high stakes poker game" situated in New Orleans, and on the way to the Big Easy the two hit damn near every last card game, dog race, pool table, and dive bar on the way. There are some ups, some downs, some who the hell knows what else, but it certainly looks like one hell of an adventure that will stick with them.
There are fun and games, but you can tell that this is the sort of 1970s style throwback where two broken, bruised, flawed characters are also sure to encounter some misery, darkness, and trying times on the way to learning important lessons about friendship, addiction, and more.
Some reviews coming out of Sundance noted that Mississippi Grind, from directing duo Anna Boden and Ryan Fleck (Half Nelson, It's Kind of a Funny Story), is a bit formless and tends to meander. Though whether this is a negative, a positive, or simply a statement of fact, tends to depend on the individual critic. Whatever your stance on that aesthetic choice, it's not surprising then that the trailer has a similar wanderlust. Then again, it's a road movie, which can tend to unspool that way.
If nothing else, I'll totally see this just for Ben Mendelsohn at this point. He's always been fantastic, but I just finished watching him in Netflix's Bloodline, where he's great, and I'm pumped up to see what he can do in Star Wars: Rogue One, assuming that he is actually in that movie. For Reynolds, this looks like another left-of-center role in a quirky, unusual indie film that he's been peppering his resume with of late.
Mississippi Grind also stars Sienna Miller, Analeigh Tipton, Alfre Woodard, and Robin Weigert, and will be available on DirecTV starting August 13 and hits select theaters on September 25.
Your Daily Blend of Entertainment News
Thank you for signing up to CinemaBlend. You will receive a verification email shortly.
There was a problem. Please refresh the page and try again.