Monday Movie Memo: Why The Hunger Games: Mockingjay Just Made Me Furious And Sad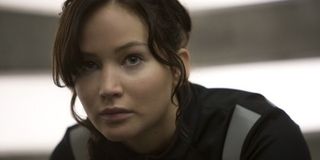 The seeds of revolution have been planted. President Coin (Julianne Moore) and Plutarch Heavensbee (Philip Seymour Hoffman) know that they have one real shot at turning the Districts against President Snow (Donald Sutherland) and The Capitol. The battle is wearing on Katniss Everdeen… and yet, that's not why The Hunger Games: Mockingjay – Part 1 made me so angry, and so very sad. I explain in today's Monday Movie Memo.
The Hunger Games returned to its winning ways over the weekend, taking the top slot on the box office Top 10 with an estimated $123 million. Overall, that number was below the previous openings for the Hunger Games movies. Yet, plenty of people still turned out to see the latest chapter in Katniss Everdeen's herculean journey… and to possibly say goodbye to Philip Seymour Hoffman.
We have had a ton of exciting and informative Hunger Games articles leading up to the release of Mockingjay – Part 1, and we'll have a few more great pieces in the coming days. But for now, if you want to revisit our coverage, start with:
- Eric's favorable review of Francis Lawrence's latest film.
- The 11 differences between the book and the movie.
- A defense for the decision to split the Mockingjay adaptation into two parts.
- And finally, our choice for Mockingjay's MVP. (It's not who you'd assume.)
Movie junkie. Infatuated with comic-book films. ReelBlend cohost. Resident dad. Extroverted introvert. Wants to see the Snyder Cut. Managing Director at CinemaBlend.