No Monsters Vs. Aliens Sequel Coming After All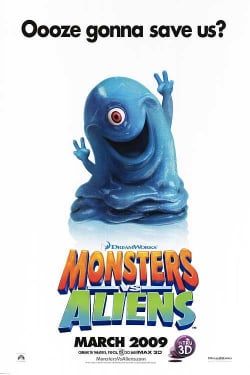 Earlier this year I fell hard for Monsters vs. Aliens, and apparently I wasn't alone-- the DreamWorks animated movie made $198 here in the U.S., and is currently at #6 on the box office chart for the year.
But apparently being a better-than-average comedy and a box office hit at home isn't enough for DreamWorks Animation. The Los Angeles Times is reporting that the studio has scrapped plans to make a sequel for the film, thanks to the fact that overseas markets didn't like it as much as we did (it made $181 million worldwide, which, uh, isn't that bad).
"I'd like to tell you there's a perfectly rational, clear and easy answer as to why not, but there isn't," studio chief Jeffrey Katzenberg told a group of industry analysts on Tuesday. "There was enough of a consensus from our distribution and marketing folks in certain parts of the world that we would be pushing a boulder up a hill."
DreamWorks Animation announced a 48% decline in third-quarter profits, which is bad but still not as bad as everyone was expecting. As the economic outlook continues looking grim, it seems counterintuitive that a sequel would get dropped, given the whole built-in-audience thing. On one hand, it's a shame that a movie as clever as Monsters vs. Aliens won't be revisited. On the other, original content-- no matter how much the DreamWorks animated projects may start to blend together-- is always a good thing.
Your Daily Blend of Entertainment News
Staff Writer at CinemaBlend