More Fantastic Four Talk From Miles Teller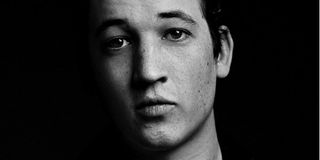 Don't you wish that Miles Teller could just come right out and talk freely about the Fantastic Four reboot? His name has been attached to the project for a while now, with rumors saying that he's going to play Reed Richards in Josh Trank's reimagining of the classic Marvel property. But nothing has been confirmed. Because nothing ever gets confirmed in Superhero Movie Rumor World!
With Fantastic Four ramping up for a Louisiana shoot in March (and a finished script locked in place), it's safe to assume that concrete Four details will start rolling out of Fox. Until then, Teller has to play "the game." Maybe he isn't involved. Yet, every time that he's asked about the production, he doesn't slam the door. He shares insight. Late last year, he talked about how his commitment to the Divergent sequels would lead right into the Fantastic Four film shoot… you know, if that was something he had to worry about. And now, when asked by Collider about the reboot, Teller didn't offer denials. He offered opinions.
Of the reboot, Teller said:
Listen to him talk about the movie. "If it were to happen?" "Yes, I could get back in shape?" It really sounds like Teller's expecting to stretch into the role, and soon. (Get what I did there?)
So, let's break down what he said. He says that Trank "should" put a fresh spin on it. Which likely means that the reboot won't be beholden to the classic Marvel origin of the team, which requires the four members of the eventual "family" to take a spaceship trip through a storm of cosmic radiation. Tim Story stayed true to that version back in 2005, and his movie might have suffered a bit because of that loyalty.
There has been talk that a rebooted Four doesn't have to go into space… that there can be a new version of the story that brings these four super-powered individuals together as a team using different means. It's not the only change. In the comics, Sue and Johnny Storm are siblings, but the persistent rumor is that Trank wants his Chronicle co-star Michael B. Jordan (who acts alongside Teller in That Awkward Moment) for the Human Torch. So canon is off the table with this reboot, it seems.
Not that Teller is on board. He isn't. Even if he keeps talking about the pending movie as if it's his to shepherd. We shall see.
Movie junkie. Infatuated with comic-book films. ReelBlend cohost. Resident dad. Extroverted introvert. Wants to see the Snyder Cut. Managing Director at CinemaBlend.
Your Daily Blend of Entertainment News
Thank you for signing up to CinemaBlend. You will receive a verification email shortly.
There was a problem. Please refresh the page and try again.