More Pee-wee Herman Is Coming, Get The Details Here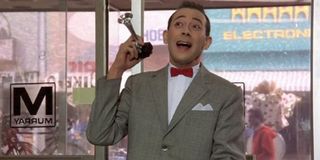 Pee wee-Herman is returning to the big-screen, according to Paul Reubens. And while the actor hasn't given too much away regarding a third cinematic adventure for the beloved children's character, he has teased that an announcement regarding the feature is coming "imminently."
Paul Reubens made the cataclysmic statement during an interview with Rolling Stone, which was actually orchestrated to celebrate the upcoming release of the re-mastered Blu-ray box-set of Pee-wee Playhouse. During the end of his chat, the interviewer gently probed, "One last question: There were some rumors going around that you were working on another Pee-wee movie. Any updates on that?" Reubens then delivered the hugely exciting news that the speculation was indeed correct by declaring, "There's going to be a big announcement any minute now." Unfortunately that didn't mean that Reubens took 60 seconds to compose himself before delivering further details. Instead, he revealed that the movie will be "made shortly after the new year." Said the actor,
Fingers are crossed that Paul Reubens' dream will actually come to fruition. Since 2009 he has teased on numerous occasions that his beloved character will return in some form or another. In 2011 a limited run stage production, The Pee-Wee Herman Show, ran in Los Angeles and New York and proved to be a rather spectacular success. It was even nominated for a Primetime Emmy Award for Outstanding Variety, Music or Comedy Special after an extra performance was recorded for HBO. Oh, and it sold over $3 million in advance tickets too.
Paul Reubens played Pee-wee Herman throughout the 1980s. This started with the television series Pee-wee's Playhouse, which ran between 1986-1990, but also included 1985's Pee-wee's Big Adventure and its 1988 sequel, Big Top Pee-wee. The actor has previously revealed that he has written two scripts for future Pee-wee Herman films, one of which he referred to as adult Pee-wee and he insisted it included "Valley Of The Dolls moments." Paul Reubens even said that he'd approached Tim Burton, who directed Pee-wee's Big Adventure, and Johnny Depp at one point about having the latter play the character. Given these past developments, it's hard to say whether or not Reubens' newly planned Pee-Wee Herman film will actually get made. In fact, I'll only really start to believe him when someone else says it is happening.
Your Daily Blend of Entertainment News
Your Daily Blend of Entertainment News
Thank you for signing up to CinemaBlend. You will receive a verification email shortly.
There was a problem. Please refresh the page and try again.