More Voices Join Smurf Cast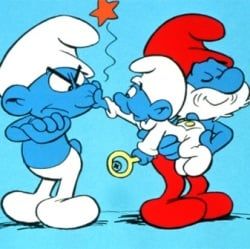 The upcoming Smurfs movie just got a whole lot, oh I don't know, bluer? A bevy of actors, actresses and other celebrities have already joined the voice casting roll call, and they just got a couple of more Smurf friends to get on board. According to Entertainment Weekly, a few television personalities will lend their pipes to a production quickly becoming a who's-who of the "hey I recognize that voice" industry. Saturday Night Live cast member Kenan Thompson will play Greedy Smurf and fellow SNL'er Fred Armisen will voice Brainy Smurf. Additionally, The Daily Show's John Oliver will give a little British flavor as Vanity Smurf, The Office's BJ Novak will be Baker Smurf and Jeff Foxworthy rounds it out with a little hint of redneck as Handy Smurf.
The Smurf movie didn't really need to add anymore voice power. Other celebrities with voice roles include Katy Perry, Hank Azaria, George Lopez, Alan Cumming, Paul "Pee-Wee" Reubens, and Wolfgang Puck. Tons of celebrity pipes and cameos do not a great movie make (read: Valentine's Day) but the more names attached to this project, the more it seems to have legs. Add in Neil Patrick Harris as the actual human being who encounters the little blue guys in Central Park, and this just could be a production that won't totally creep me out (like I thought it would originally).
Doug began writing for CinemaBlend back when Terminator: The Sarah Connor Chronicles actually existed. Since then he's been writing This Rotten Week, predicting RottenTomatoes scores for movies you don't even remember for the better part of a decade. He can be found re-watching The Office for the infinity time.
Your Daily Blend of Entertainment News
Thank you for signing up to CinemaBlend. You will receive a verification email shortly.
There was a problem. Please refresh the page and try again.