Mr. Ed Movie Coming From Fox 2000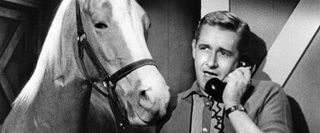 Here I thought the heyday of adapting 60s TV shows into movies had finally passed, as hits like The Brady Bunch Movie and The Flintstones gave way to disasters like Bewitched and The Flintstones: Viva Rock Vegas, finally sputtering out with 2008's Get Smart, which did just fine but managed to make even Steve Carell seem unwatchable. But with the board game movie trend seeming to die out, I guess it's back to the 60s. And where better to start over than with Mr. Ed?
A horse is a horse, of course of course, and the talking horse named Mr. Ed is, for some reason, about to get the modern big screen treatment he's always deserved. Variety reports that Fox 2000 has acquired the rights to the show, and David Friendly and Jim Mahoney plan to produce the film adaptation. There's no more information out there, and if I were to guess, I think it will be a while before we actually see this movie exist, if ever-- it's not like Mr. Ed is an especially hot topic that they've got to get out there before people stop talking about the show at watercolors.
I have vague memories of liking Mr. Ed as a kid, but don't really remember much about the show beyond the amusing premise of a talking horse. Assuming that this will be a kid's movie, and that even the parents of kids these days don't remember Mr. Ed all that well, who exactly are they trying to court by buying this title? Didn't anyone learn a lesson from the silent, hilarious horse in Tangled? Who do we have to kill to get that horse his own movie?
Staff Writer at CinemaBlend
Your Daily Blend of Entertainment News
Thank you for signing up to CinemaBlend. You will receive a verification email shortly.
There was a problem. Please refresh the page and try again.