Must Watch: Dr. Seuss' The Lorax Re-imagined As A Grindhouse Movie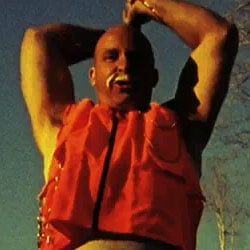 At last someone has combined my lifelong love of Dr. Seuss with my newfound love of grindhouse cinema. Maybe you've read the classic 1971 Dr. Seuss book, The Lorax. It's a good book, but not his very best. I've always been partial to Sneetches and those who have bellies with stars upon thars.
But what was always great about The Lorax was that he speaks for the trees. The story was a classic fable pitting industrialized society against the environment, with the Lorax standing up for the forests. The Lorax was always kind of a preachy and offputting character, but I remember as a kid being pretty shattered by the scenes of the devastated forest and the sad little Lorax, sitting amidst the stumps all alone. So maybe what he should have done, is stopped looking on disapprovingly and picked up an axe.
The Lorax has been re-imagined as the world's coolest, live-action grindhouse movie. Now it's The Lorax: He Speaks For the Trees and boy does he ever. All the staples of the book are there, including most of Dr. Seuss's genius, rhyming dialogue involving brown Bar-ba-Loots. Watch:
It's worth noting that back in 2009 Universal actually announced that they were working on a 3D animated feature version of The Lorax. Somehow I doubt it'll end up looking anything like this.
Seuss Version
Grindhouse Version
Your Daily Blend of Entertainment News