NSFW I Spit On Your Grave Clip Turns Up The Torture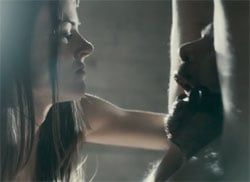 We've seen a lot from I Spit On Your Grave over the past few weeks, but the clips we've been able to show you from the movie have always stopped just short of the point of the thing, which is to show you a woman getting revenge for her rape. That ends today. In this new clip for the unrated and sure to be grizzly movie, Jennifer works over one of her former attackers.
If you're over 18, watch the entire not-safe for work clip below. Warning: May involve ball squeezing and teeth pulling. Well not may involve, it does involve. Watch:
That was Sarah Butler as Jennifer, a woman assaulted by crazy hillbillies who survives and then hunts them down to give them a taste of their medicine. I've been sort of impressed with Butler's performances in the previous clips we showed from the film, but I'm not how I feel about her in full on, revenge mode. Revisit the other clips we've shown you below, and let me know what you think of her performance in the comments section:
For more I Spit On Your Grave info visit our complete preview page.
Your Daily Blend of Entertainment News
Thank you for signing up to CinemaBlend. You will receive a verification email shortly.
There was a problem. Please refresh the page and try again.