Naomi Watts' Princess Diana Biopic Finally Lands U.S. Release Date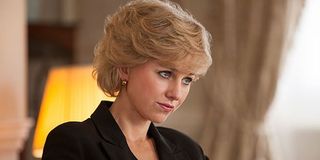 What's sure to be one of the most closely watched performances of the year will be coming to theaters in just a couple of months! Naomi Watts has taken on the coveted role of the People's Princess in the biopic Diana, and Deadline has revealed eOne will release the much talked about drama in the United States on November 1st in limited nationwide release. Should things go well from there, Entertainment One will widen the pic's distribution in the weeks that follow.
Based on biographer Kate Snell's book Diana – Her Last Love, this particular Di biopic won't attempt to cover the entirety of Diana Spencer's life, but rather will focus on her rocky days post-divorce from the Prince of Wales up to her tragic and unexpected death in 1997. During this span, the former princess became an outspoken advocate for the diligent removal of landmines in former war zones, and began a transformative relationship with a Pakistani heart surgeon named Dr. Hasnat Khan. This—rather than her relationship with Dodi Fayed—is said to be at the center of Diana.
This Oliver Hirschbiegel-directed Diana pic first grabbed headlines in the fall of 2011. At the time, it was called Caught in Flight, and the fiery and lauded leading lady Jessica Chastain was attached to star. However, scheduling conflicts ultimately forced the twice Academy Award-nominated actress out of the project, paving the way for Watts, who signed on in early 2012. Since then, Watts has earned her second Oscar-nomination thanks to the very unglamorous role of a mother mauled by the gruesome 2004 Indian Ocean tsunami in the devastating drama The Impossible. While no actor will admit they accepted a role hoping for Oscar, we have to assume Watts has hopes to at long last snagging that little gold bastard with this part. After all, playing royalty is a great way to catch the Academy's eye. Just look at Colin Firth (King George VI in The King's Speech) and Helen Mirren (Queen Elizabeth II in The Queen).
Clearly eOne saw Diana's potential, snatching up its US distribution rights at Cannes back in May. But while we wait to see what all the buzz is about, we can at least get a taste of what Hirschbiegel and Watts have in store with the film's first teaser and trailer.
Staff writer at CinemaBlend.
Your Daily Blend of Entertainment News
Thank you for signing up to CinemaBlend. You will receive a verification email shortly.
There was a problem. Please refresh the page and try again.