Napoleon Dynamite Producers Slap Fox Searchlight With A $10 Million Lawsuit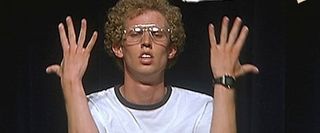 2004's Napoleon Dynamite was more than just a movie that everyone quoted nonstop for months. Napoleon Dynamite was one of the great success stories of independent filmmaking. A couple of kids from Idaho wrote and directed a quirkier than quirky low budget movie about one of cinema's weirdest heroes, which went on to make millions. The film was such a hit at Sundance that year that it was purchased for distribution by Fox Searchlight. The collaboration of Napoleon Dynamite and Fox Searchlight seemed a match made in heaven, much like a lion and a tiger merging to form the majestic liger.
Unfortunately, according to The Hollywood Reporter, that relationship has since strained. The producers of Napoleon Dynamite are suing Fox Searchlight for under-reporting royalties and making improper revenue deductions. In short, part of the deal Napoleon Pictures made with Fox Searchlight was that they would receive $4.75 million up front and then receive 31.66 percent of all subsequent home video profits. What their complaint, and a 2008 audit, alleges is that they were actually getting 9.66 percent of those profits. The producers are demanding $10 million in restitution according to the suit filed yesterday.
This is not the first time Fox Searchlight has been sued for breach of contract. In 1999, author Aphrodite Jones, who wrote the novel All She Wanted, based on the infamous Brandon Teena case, had a $2 million contract with Fox Searchlight to turn her book into a movie. Searchlight then waited until Kimberly Pierce finished her film Boys Don't Cry, based on the same case, and bought it instead. It all sounds incredibly underhanded and sneaky, but it also sounds like typical Hollywood wheeling and dealing.
What makes cases like these so upsetting is not simply the financial aspect. True, it's unfortunate that those victimized by Fox Searchlight's distaste for fulfilling contractual obligations are not, or at least were not at the time, enormously wealthy. But what really gets my goat about this situation is that it can create an air of distrust between independent filmmakers and distribution companies that can inhibit certain films from getting the wider audience they deserve. Independent filmmaking began as a direct response to the corporatization of Hollywood, so the relationship between filmmakers and "the suits" is already shaky. But it's especially disappointing when companies like Fox Searchlight, which is set up specifically to distribute independent films, can't give independent filmmakers a fair shake.
Your Daily Blend of Entertainment News
Thank you for signing up to CinemaBlend. You will receive a verification email shortly.
There was a problem. Please refresh the page and try again.