Natalie Portman Will Be Michael Fassbender's Lady In Macbeth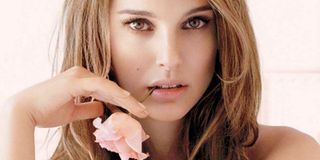 Sometimes a casting possibility arises that seems so destined for greatness that it makes us almost drunkenly giddy in anticipation. That's how I felt when it looked like Michael Fassbender and Natalie Portman would play brooding lovers in Jane Got a Gun. Sadly, Fassbender had to pull out of the pic because of scheduling conflicts with X-Men: Days of Futures Past, and my hopes were dashed. But when word hit this morning that he was attached to play the title character in See Saw Films' adaptation of Macbeth I saw an opportunity for my dream cast match-up once more! And, guys, it's happening!
Screen Daily has announced Natalie Portman has committed to play Lady Macbeth opposite Fassbender, meaning that two of contemporary cinema's most scintillating stars are now uniting to take on one of William Shakespeare's most famous works. Notably, this won't be the pair's first collaboration. Portman and Fassbender share some scenes in Terrence Malick's latest unnamed drama that centers on Austin's music scene. Reportedly, Portman enjoyed working with Fassbender on that film, and was eager to do so again. Moreover, she is said to have long hoped to play Lady M, which is no surprise as that is one of the most coveted female roles ever written.
Macbeth's cast is already remarkable. Making this project even more enticing is that its buzzed about script will be directed by Justin Kurzel, who won notice with his true-crime drama Snowtown, which premiered at the Cannes Film Festival in 2011. Basically, on paper this is stacking up to be a serious award season contender. This prospect is not new to See Saw, which has had a hand in producing the Golden Globe-nominated Shame and the four-time Academy Award winning The King's Speech. If you'll excuse me, I need to update my most anticipated 2014 releases list…
Macbeth is expected to go into production later this year.
Staff writer at CinemaBlend.
Your Daily Blend of Entertainment News
Thank you for signing up to CinemaBlend. You will receive a verification email shortly.
There was a problem. Please refresh the page and try again.