Natalie Portman Not Naked For Directorial Debut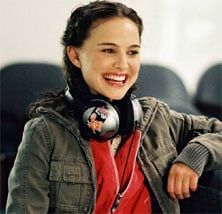 It's gotten a little ridiculous with Natalie Portman. It's become almost impossible to utter her name without some lout in the background shouting something about how he heard she might be naked, or whining that he wishes she'd be naked, or that he's sick of her promising and then failing not to be naked. So let's just get this out of the way right now so we can go on talking about how awesome she is, even with her clothes on. Natalie Portman will not be naked for her directorial debut. Unless of course, the cast needs some extra motivation.
Whether she's in her birthday suit or not, Natalie Portman is crazy talented and smarter than almost all of you. I can't wait to see what she does as a director, and Variety has confirmed the rumors we heard earlier this year which suggested she'd try her hand at it on a movie called A Tale of Love and Darkness, based on the bestselling memoir of author Amos Oz. The book is the biggest selling work in Israeli history, which I guess makes it kind of like their own "Atlas Shrugged". Hopefully it's not as boring. Portman sees it as her opportunity to mix art and activism, saying "We all have the same desire to make meaningful and artistically fulfilling films and are committed to the idea of stories leading to greater empathy and action for world issues."
A Tale of Love and Darkness tells of Oz's upbringing in Jerusalem during the turbulent times of the Jewish state's founding. Back in February Word was that Portman may also act in the movie, and if she does she'll play a small role as Oz's suicidal mother. There's no mention of that in this new Variety story, but then they don't even have a finished script yet, so nothing is truly certain.
Your Daily Blend of Entertainment News
Thank you for signing up to CinemaBlend. You will receive a verification email shortly.
There was a problem. Please refresh the page and try again.