Nazis In Space Movie Iron Sky Scores U.S. Distributor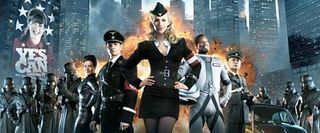 The crowd-sourced action-comedy Iron Sky will make its Stateside debut this weekend at SXSW, but there's good news for those who can't make it to Austin. THR reports Entertainment One has finally secured Iron Sky's North American distribution rights, finalizing negotiations that began shortly after the wild feature's world premiere at the Berlin International Film Festival last month. Proving the Canada-based company is a great fit for this offbeat offering, VP of theatrical marketing and distribution at Entertainment One Films U.S. Dylan Wiley expressed his enthusiasm over the acquisition in a fittingly grandiose manner, insisting:
Finnish rocker turned director Timo Vuorensola crafted Iron Sky by pulling design ideas and funds from a worldwide network of fans, creating a unique new approach to filmmaking. In the vein of Inglourious Basterds, Iron Sky offers an alternate history of the end of World War II. In this case, the Nazis—realizing their defeat was imminent—put their best scientists at work to send their remaining ranks to hide out on the dark side of the moon until the Third Reich can rise again! And of course it's an arrogant American astronaut who incites Space Nazi invasion when he lands his Lunar Lander too close to their secret moon stronghold.
The premise is completely nuts, and so is well suited to SXSW's Midnighters selection.There's no word yet on when Entertainment One will unleash Iron Sky via a U.S. theatrical release, but you can get a hint at the irreverent humor and absolute mayhem now thanks to this wonderfully weird theatrical trailer for the feature's Finnish release:
Staff writer at CinemaBlend.
Your Daily Blend of Entertainment News
Thank you for signing up to CinemaBlend. You will receive a verification email shortly.
There was a problem. Please refresh the page and try again.