Neighbors' Clever Comedian Cameos: Did You Catch Them All?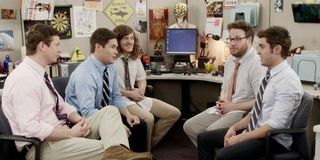 Well, the totals are in and the Seth Rogen comedy Neighbors is a big fat hit. Not only did it win rave reviews from critics--with our own Sean O'Connell calling it "fresh, relatable" and "hysterical"--but it also won at the box office, beating out The Amazing Spider-Man 2 with a healthy $51 million. That's especially impressive when you consider Neighbors R-rating means it was playing to a narrower audience than the well-established, franchised, PG-13-rated tent pole.
Now that several of us have seen it, I'd like to take a moment to pay tribute to one of the comedy's overlooked virtues. Yes, Seth Rogen has honed a new variation on his schlubby stoner shtick. Yes, Zac Efron is an hilarious scene-stealer here, and Rose Byrne showed comedy chops that are begging for a solo vehicle of her own. But I want to talk about the assorted cameos that made Neighbors richer and more rewarding for comedy nerds.
I'd been following the casting of this comedy for months, and so I knew to expect Superbad's Christopher Mintz-Plasse and Dave "Greg The Soccer Player" Franco. ("People don't forget!") I also anticipated appearances from Undeclared's Carla Gallo and The Mindy Project's Ike Barinholtz as the lead's immature besties, as well as Submarine's Craig Roberts as a frat pledge called Assjuice. But I was swept off my feet with the slew of other comedian appearances the production had largely kept under wraps.
Some were subtle, like the cameos in the frat history flashbacks. The setting is a 1930s frat party, the epic rager that gave rise to the toga party. And who is playing those sheet-draped old-school bros? The Lonely Island! Akiva Schaffer, Andy Samberg, and Jorma Taccone.
Next, we're whisked away to the 1970s, and the invention of Beer Pong. And who is are its originators? Blake Anderson, Anders Holm, and Adam DeVine, the boys from Workaholics, pictured up top. Then, rounding out this triptych of legendary frat antics, is a cameo from New Girl's Jake Johnson as Sebastian Cremmington, the 1985 inventor of The Boot And Rally. None of these guys got a line, but they got bit of physical comedy and a chance to delight fans with an "I know that guy moment!"
Decidedly less obscure were the roles of authority in the film, which once more went to comedy notables. Playing the cop who gets caught up in this neighborhood war is stand-up comedian Hannibal Buress, who has recently been making waves as the wacky dentist Lincoln on Comedy Central's acclaimed new series Broad City. Then over on the college campus, Lisa Kudrow drops in as the Dean, which spurred a string of cheers from the audience I saw Neighbors with. And lastly, in the movie's most shocking moment, The League and How Did This Get Made's Jason Mantzoukas--signature bushy beard and all--pops up as the world's worst doctor, delivering news to anxious parents with the bedside manner of a psychopath.
This is casting done impeccably. Not only did all of the above add to the wild energy of Neighbors, but also they gave an Easter Egg quality to the movie. Savvy audience members might enjoy the meta humor ingrained in the casting alone. For instance, consider the fact that each of the frat flashbacks feature performers best known for playing stunted man-children, and arguably were played by performers more likely to be recognized by the frat guys than Rogen and Byrne's young parents, Mac and Kelly Radner. Then, when it comes to the latter three, helmer Nicholas Stoller brought in three performers we associate with reckless and wild characters, not the kind of people you'd want to be in charge. Of course it's funny, but it also smartly informs the world the Radners live in, where really everyone is too irresponsible to be a role model adult.
Basically, there's lots of things to laugh at and love about Neighbors. But I'm personally grateful for the clever casting and cameos that made it a sharper comedy than it seems, at first glance.
Did I miss any comedy cameos that got you pumped? Share them in comments.
Your Daily Blend of Entertainment News
Staff writer at CinemaBlend.