Neighbors Grosses $2.5 Million From Thursday Night Showings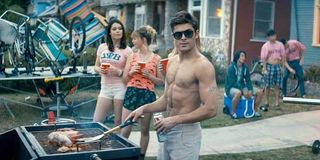 Beware, The Amazing Spider-Man 2. It appears as if Neighbors has its sights set on you. The Seth Rogen comedy has been tracking well for weeks now, and as it heads into its debut weekend, it looks like the numbers are going to be strong. In fact, Neighbors could easily be the number one movie option this weekend in spite of the embattled wall-crawler.
Variety reports that Neighbors generated $2.5 million in late shows last night to start it's run, a pretty stellar number for an original comedy. That compares favorably with the midnight shows of Ted, which grossed $2.6 million, though that was back in the olden days when night-before screenings were limited to midnight. Ted went on to make half a billion dollars, but that opening weekend was a comparatively modest $54.4 million weekend.
Universal has projected just about half that for the Nick Stoller comedy, which reportedly only cost $18 million. But most industry analysts forecast somewhere in the (pun alert) neighborhood of $35-$40 million. A tidy sum, and with two weeks before A Million Ways To Die In The West is unleashed, a solid springboard to $100 million domestic. Fandango suggests a more auspicious start to the comedy, which has outsold last year's This Is The End by a nearly 2-to-1 ratio at the same point. That film went on to gross $101 million stateside; a similar, but slightly more muscular result, could emerge here.
The bigger news would be if this would be enough to knock The Amazing Spider-Man 2 off its perch at the top spot. Most studios are wary of that second weekend of May because of the tidal wave created by the blockbuster that opens May, and at best you can score a hit with a smaller, lower budgeted film posited as counterprogramming, like 2011's Bridesmaids. But last year, even after Iron Man 3 went on to score one of the biggest openings of all-time, The Great Gatsby grossed $50 million a week later, suggesting that there was no mythical vacuum caused by the second week in May, even if next May is being cleared out after Avengers: Age Of Ultron.
Superhero movies usually tumble close to 60% after their opening weekend. Such a tumble would place The Amazing Spider-Man 2 in the high thirties, possibly around $37-$38 million. Will that be enough to hold off Neighbors? Rogen's biggest opening is a loose tie between Superbad (which he wrote and co-starred in) and The Green Hornet, both of which debuted to $33 million. Inflation suggests Neighbors could reach that level as well, particularly considering Efron once fronted High School Musical 3, which debuted at $42 million. In it's second weekend, the wall-crawler could find himself defeated by the fratty comedy, which would not be a good look for Sony.
Your Daily Blend of Entertainment News
Thank you for signing up to CinemaBlend. You will receive a verification email shortly.
There was a problem. Please refresh the page and try again.