Olivia Munn's Iron Man 2 Role Completely Recut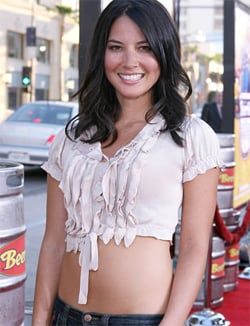 If you are living in a full-on nerd world, loving movies, video games, and all things techie, then you should be fully aware of the existence of dork queen Olivia Munn. She's been the co-host of G-4's Attack of the Show for about four years now, giving nerds a glimmer of hope that there are hot half-asian girls out there who will one day date them (unlikely). Now she's branching out into films in a big way, showing up in two of the biggest films of the summer, Iron Man 2, and Date Night with Steve Carell and Tina Fey.
Recently, the smokin' hot and ultra hilarious actress sat down with the folks over at Complex to chat about where she's been, where she is, and where she's going. The most interesting news is that her role in Iron Man 2, which we've known about for a while now, was recently changed completely, and not just in the editing room. Munn's original character was a brighter, more light-hearted role, but as Jon Favreau's edit grew darker and darker, Munn just didn't fit in the role she had. Fortunately for her, everyone seems to love her including Robert Downey Jr. and Jon Favreau so she got the call to come back in and reshoot as a completely new character.
Obviously she's keeping the details hush-hush, but fret not, nerds, your queen will still be in the dorkiest movie of the summer.
Also good news is that it sounds like her and her boyfriend Chris Pine are on the splits, so maybe if you join the Olivia Munn Fan Group, otherwise known as OMFG, and start sending her weird pictures of yourself she'll take notice and you'll reel yourself in the object of all nerd affections. I'm just kidding, don't do that. That'd be weird. Look for Munn in Date Night on April 9th and Iron Man 2 on May 7th.
Your Daily Blend of Entertainment News
Thank you for signing up to CinemaBlend. You will receive a verification email shortly.
There was a problem. Please refresh the page and try again.