One Of The Creepiest Children's Books Ever Written Is Getting A Movie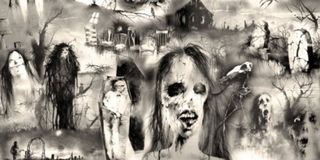 You grew up with them. They were the center of slumber parties and the grade school equivalent of water cooler conversations. Now Scary Stories To Tell In The Dark is being adapted by one of Hollywood's hottest screenwriters.
Deadline reports CBS Films has hired John August to spin Alvin Schwartz's Scary Stories To Tell In The Dark book series into a horror movie fit for kids who revel in frightening films. The BAFTA-nominated screenwriter is perhaps best known for his collaborations with Tim Burton, which include Big Fish, Charlie and the Chocolate Factory, Corpse Bride, Dark Shadows and Frankenweenie.
CBS Films has bought the rights to all three of Schwartz's books, including Scary Stories To Tell In The Dark, More Scary Stories To Tell In The Dark, and Scary Stories 3: More Tales To Chill Your Bones. Considering these were short story collections, we might well assume the Scary Stories To Tell In The Dark movie will be an anthology. With each of Schwartz's collections containing 20-some scary stories, August could have his pick of tons of creepy creations. The challenge will be achieving balance between scary enough to please kids--and likely adults who will see the film out of earnest nostalgia--and keeping it from being so scary that parents revolt against it. Now, that might seem absurd, but keep in mind, the Scary Stories To Tell In The Dark book series has not only been best-selling, but also one of the most often banned from libraries.
An earlier attempt at tackling Scary Stories To Tell In The Dark was made about a year ago, when CBS Films bought the concept pitched by Patrick Melton and Marcus Dunstan, the scribes behind such grisly horror features as Saw IV, Saw V, Saw VI, Saw 3D: The Final Chapter and Piranha 3DD. Their pitch involved a group of kids forced to fight back when their nightmares come to life, a similar setup has been used for Columbia's Goosebumps movie. It's unknown if this premise is still on the table.
Unmentioned in Deadline's article is whether Scary Stories To Tell In The Dark will be live action or animation. Perhaps it's assumed that a movie that will likely be about children tormented by beasts, bugs, and things that go bump in the night would be live-action. However, one of the crucial elements to this series selling more than 7 million copies worldwide is those horrific illustrations from Stephen Gammell. (Full disclosure: More than a few of these are forever scorched on this reporter's brain.) Might this mean Scary Stories To Tell In The Dark will be animated? Perhaps in the stop-motion style of Frankenweenie?
Lastly, could it be that hiring John August to adapt the series is CBS Films' first step toward pitching the project to Tim Burton? After all, August's filmography has been almost entirely dedicated to/dominated by Burton's films for the past decade. And creating freaky family-friendly films is basically Burton's forte. Admittedly, at this point Burton's potential involvement is purely speculation. But it makes sense, doesn't it?
Staff writer at CinemaBlend.
Your Daily Blend of Entertainment News
Thank you for signing up to CinemaBlend. You will receive a verification email shortly.
There was a problem. Please refresh the page and try again.