One Crossbones Plotline We'll Never See In A Marvel Movie, According To Frank Grillo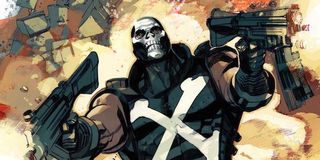 He may not have been Captain America: The Winter Soldier's main antagonist, but Brock Rumlow was definitely a force to be reckoned with as one of HYDRA's lead operatives. When he returns in May for Captain America: Civil War, he'll be fully transitioned into his Crossbones identity and will cause trouble for both Steve Rogers and the Avengers. However, there's one thing the MCU's Crossbones won't do that his comic book counterpart did: pull the trigger on Captain America.
Those who've read Ed Brubaker's run of Captain America know that Crossbones sniped Steve immediately after the Civil War storyline concluded (though it was a hypnotized Sharon Carter that delivered the "killing" shots), but Grillo told Comicbook.com that we won't see that moment occur on the big screen. The actor explained:
So while Crossbones will give Captain America and Earth's Mightiest Heroes a run for their money, he won't get to off Cap personally, though that doesn't mean the patriotic hero won't meet his "end" in this universe. It was rumored last month that Steve Rogers would be killed after surrendering himself to authorities in Captain America: Civil War, leaving someone else to inherit the Star-Spangled mantle. Since it's already confirmed that Evans is reprising Cap for the Avengers: Infinity War movies, obviously such a death wouldn't stick, so presumably it would either be a fake demise or he would be resurrected, if it's true at all.
Fortunately, we will still see Crossbones fully unleashed in the 2016 blockbuster. Scarred from his injuries in Captain America: The Winter Soldier, Grillo stated last month that Rumlow won't be a happy camper this time around (not that he really was in his first MCU appearance), and nothing is going to stop him from his objective, though it hasn't been revealed exactly what that is yet. Last year's footage from D23 showed him and his men battling the Avengers sometime near the beginning of the movie, and once apprehended, he began teasing Steve about Bucky. It's also unclear if Crossbones is operating on his own or if he's allied with Zemo, the movie's other clear antagonist, but either way, he won't be holding back when it comes to unleashing chaos.
Crossbones will be back in action when Captain America: Civil War charges into theaters on May 6, 2016, and if we're looking correctly into Grillo's previous comments, we may see even more of him as the MCU moves forward.
Connoisseur of Marvel, DC, Star Wars, John Wick, MonsterVerse and Doctor Who lore. He's aware he looks like Harry Potter and Clark Kent.
Your Daily Blend of Entertainment News
Thank you for signing up to CinemaBlend. You will receive a verification email shortly.
There was a problem. Please refresh the page and try again.