The One Role Bill Murray Regrets Not Getting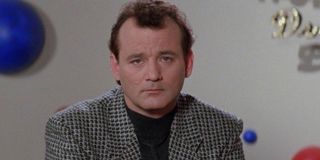 Bill Murray has had a pretty impressive career. Not only has managed to transfer from comedy to drama with aplomb, but he's also remained beloved over several decades now. But, since he's human, he was always going to have regrets. And Bill Murray has now revealed that there is one specific movie role that he regrets missing out on, admitting that he wishes he'd have starred in The Year Of Living Dangerously.
Bill Murray made this admission during his Reddit Q&A on Wednesday evening, which he partook in to promote his upcoming turn in Rock The Kasbah. After being asked which particular role he missed out that he wished he'd got, Murray opened up his heart to the Reddit masses by explaining:
It's actually quite hard to picture Bill Murray in Peter Weir's 1982 drama. That's because it stars young Mel Gibson as Australian journalist Guy Hamilton, who starts a love affair with Sigourney Weaver's Jill Bryant during the midst of the overthrow of Indonesian President Sukarno. All of which is something that you don't associate with early 1980s Murray.
Now, personally I believe that Bill Murray can do anything he sets his mind to. Well, almost anything. Obviously, even he can't get the Chicago Cubs to win the World Series. Too soon, Cubs fans? It feels like it's too soon.
Anyway - even I think Bill Murray might have struggled to match Mel Gibson's portrayal in Peter Weir's brutal, romantic epic. Especially since it came at a time in the early 1980s where Murray had only really appeared in comedies, such as Meatballs, Caddyshack, Stripes, and Tootsie.
Obviously, Murray has since gone on to prove that he does possess some rather impressive dramatic acting chops, especially with his performances in Rushmore, Lost In Translation, Broken Flowers, and Hyde Park On Hudson. But this ability only came to the fore over a decade and a half after The Year Of Living Dangerously was shot. It wouldn't be long until Bill Murray got the chance to star opposite Sigourney Weaver though, as just two years after The Year Of Living Dangerously was released, Ghostbusters hit cinemas, and it saw Murray star as Dr. Peter Venkman and Weaver portray his love interest, Dana Barrett.
Meanwhile, Bill Murray's latest film Rock The Kasbah has been met with some rather scathing reviews ahead of its release this Friday. In fact, it currently only has a rating of 6% on Rotten Tomatoes. Ouch.
Your Daily Blend of Entertainment News
Thank you for signing up to CinemaBlend. You will receive a verification email shortly.
There was a problem. Please refresh the page and try again.