The Original Guardians Of The Galaxy Ending Was Removed For Being Too Sad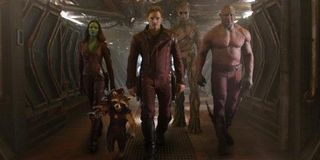 Guardians Of The Galaxy's director James Gunn has revealed that the film's ending had to be changed because it was simply way too sad. Does that mean that Groot was obliterated into such teeny tiny pieces that he could only be turned into potpourri? Sadly not.
James Gunn has now admitted that the original conclusion to the Marvel sci-fi space opera saw Peter Quill's grandfather learn that his young grandson had been abducted. However, alongside Marvel's head-honchos, Gunn came to the realization that it needed to be altered because it was just way too "freaking sad." According to the SlashFilm, Gunn explained at the launch of Guardians of the Galaxy's Blu-ray edition that he was worried people wouldn't recognize Gregg Henry, who played Quill's grandfather, with make-up. But he conceded that it was still a really sweet and tender moment.
Which is entirely understandable. Seeing Peter Quill's grandfather pining for the return of his relation would really have wrecked the good vibes that were being evoked by Marvin Gaye's "Ain't No Mountain High Enough." I always had an inkling that we were supposed to see more of Gregg Henry in the film. And as a James Gunn stalwart, who has appeared in Slither and Super, two of the director's previous films, there is still every chance that Gregg Henry will re-appear at some point further down the line.
But he wasn't the only one to be sacrificed for Guardians Of The Galaxy's finale. Benicio Del Toro's The Collector and Karen Gillan's Nebula, both of whom had been a thorn in the side of the intergalactic posse during their endeavours, both found themselves on the cutting room floor. But James Gunn had a pretty stellar reason for slicing their roles down. He wanted the ending to simply involve "the good team," which is why he chose to include Michael Rooker's Yondu. Even though he had been a pest to Peter Quill for most of the movie.
Meanwhile James Gunn admitted that he was really disappointed to leave out Karen Gillan's final scene as Nebula. He declared that he "loved it" before going on to explain that it simply featured her "walking through this field all pissed off with a busted Ravager vehicle behind her." Of course the fact that both Nebula and The Collector survived means that there is a good chance that the pair will return for the 2017 sequel to the $768 million blockbuster. And there are even rumors starting to circulate that the pair could collaborate for Guardians Of The Galaxy 2. Get Howard the Duck in there too and then the Guardians Of The Galaxy will really have a problem.
Your Daily Blend of Entertainment News
Thank you for signing up to CinemaBlend. You will receive a verification email shortly.
There was a problem. Please refresh the page and try again.