Oscar Presentation Order Revealed?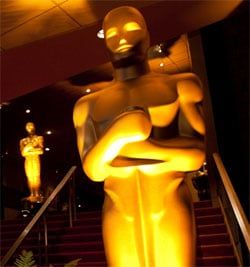 Though that list of winners making the rounds is a total fraud, there's at least a chance that this might be the real deal. Cinemascope claims to have scored the complete presentation rundown, from a source of theirs working on the Oscar production. They say the presentation is set to clock in at 3 hours and 15 minutes, and below my blather is their full list of which order the awards will be presented in.
If true, it looks like the Academy has realized that the only award anyone is even remotely interested in this year is Best Supporting Actor, so they've moved it away from its traditional spot at the beginning of the broadcast to smack dab in the middle. Instead the show opens with Best Supporting Actress, and between then and Heath Ledger's inevitable win it's a multi-hour wasteland of screenplay awards. So tune in and if Best Supporting Actress is given first, then odds are this list is right and you can take a good nap until 7:03 when Heath gets his win.
Here's the rundown, click over to Cinemascope for more details.
5:38: Hugh's opening performance
5:45:AWARD #1 ACTRESS IN A SUPPORTING ROLE
5:51: AWARD #2: ORIGINAL SCREENPLAY
5:55: AWARD #3 ADAPTED SCREENPLAY
6:03: AWARD #4 ANIMATED FEATURE FILM
6:05: AWARD #5 ANIMATED SHORT FILM
6:14: AWARD #6 ART DIRECTION
6:18: AWARD #7 COSTUME DESIGN
6:20: AWARD #8 MAKEUP
6:30: AWARD #9 CINEMATOGRAPHY
6:36: SCI-TECH AWARDS RECAP
6:41: AWARD #10 LIVE ACTION SHORT FILM
7:03: AWARD #11 ACTOR IN A SUPPORTING ROLE
7:08: AWARD #12 DOCUMENTARY FEATURE
7:10: AWARD #13 DOCUMENTARY SHORT SUBJECT
7:20: AWARD #14 VISUAL EFFECTS
7:22: AWARD #15 SOUND EDITING
7:26: AWARD #16 SOUND MIXING
7:29: AWARD #17 FILM EDITING
7:37: JEAN HERSHOLT AWARD TO JERRY LEWIS
7:48: AWARD #18 ORIGINAL SCORE
7:55: AWARD #19 ORIGINAL SONG
8:01: AWARD #20 FOREIGN LANGUAGE FILM
8:10 In Memoriam
8:14: AWARD #21 DIRECTING
8:23: AWARD #22 ACTRESS IN A LEADING ROLE
8:31: AWARD #23 ACTOR IN A LEADING ROLE
8:38: AWARD #24 BEST MOTION PICTURE
Your Daily Blend of Entertainment News
Thank you for signing up to CinemaBlend. You will receive a verification email shortly.
There was a problem. Please refresh the page and try again.