Oscar Winner George Kennedy Dies At Age 91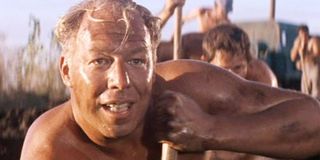 One of the big pieces of the annual Academy Awards is the In Memoriam segment where the festivities take on a more somber tone and celebrate all of the important entertainment industry players who passed away over the previous years. Last night's ceremony, of course, featured such a moment, but just a day later we learned that we lost another, as Oscar winner George Kennedy has passed away at the age of 91-years-old.
According to George Kennedy's grandson, Cory Schenkel, who confirmed it to The Hollywood Reporter, the actor passed away from natural causes Sunday morning at an assisted living facility in Boise, Idaho. He had a history of heart problems in recent years.
Standing an imposing 6 foot 4, and with the build of a linebacker, George Kennedy began his career in the late 1950s and early 1960s playing tough guys on television in a wide array of cop shows and westerns like Rawhide, Maverick, Peter Gunn, and many more. He showed up in movies, like Stanley Donen's Charade with Cary Grant and Audrey Hepburn, and Otto Preminger's In Harm's Way with John Wayne and Kirk Douglas.
His real breakout, however, came in 1967, opposite another screen legend, Paul Newman, in Cool Hand Luke. He played Dragline, the vicious fellow chain-gang prisoner serving with the title character. The two have a memorable boxing match, and the role, which really showed what he could do as an actor, won George Kennedy an Academy Award for Best Actor in a Supporting Role.
From then on, his status began to rise, as he landed bigger roles in bigger films, earning higher billing along the way. He went on to feature prominently in the likes of The Guns of the Magnificent Seven, Fool's Paradise, and The Eiger Sanction. He also appeared in the 1970 disaster picture Airport, not to mention that he played mechanic Joe Patroni in the three sequels that followed.
For a certain generation, however, George Kennedy was known for something else, his comedy. As unlikely as it sounded, he played against his usual type and appeared as Captain Ed Hocken in the Zucker Brothers' cop spoof The Naked Gun in 1988, as well as the two sequels, The Naked Gun 2 1/2 in 1991, and The Naked Gun 33 1/3 in 1994.
In addition to his onscreen career, George Kennedy also dabbled in the written word. He wrote a pair of murder mystery novels in the early 1980s, as well as his autobiography in 2011.
Born George Kennedy Jr. on February 18, 1925, he came from a show business background. His father was a composer, conductor, and pianist at a theater in Manhattan, while his mother was a vaudeville performer. At the tender age of 2, he made his stage debut with a touring theater company—he was subsequently on the road for two years—and went on to voice young characters in radio shows.
Joining the Army in 1943 after graduating from high school, George Kennedy hoped to be a pilot, and won two Bronze Stars a numerous combat and service honors in World War II. In an interesting twist, he served under the legendary officer General George S. Patton, who he went on to play in 1978's Brass Target.
George Kennedy's wife of 37 years, Joan McCarthy, died in September of last year. He is survived by his daughter and two grandchildren.