The Oscars Cut The Word Hero Out Of An American Sniper Song Lyric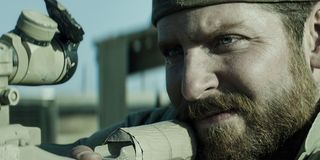 Most of the Academy Awards prognosticators were not expecting the box-office smash American Sniper to clean up in the categories that truly mattered, despite its nods for Best Picture, Actor, Writing and Editing. In fact, the film walked away from the evening only with a statue for Best Achievement in Sound Editing. However, there seems to have been another story from that evening regarding "sound" relating to the film. Now, some people are perceiving a last minute change of lyrics in Neil Patrick Harris' opening musical number as a disingenuous diss to the film's lead character, the late Chris Kyle.
In the opening number, you may recall that Harris referred to American Sniper's protagonist in one line, referencing both Boyhood and the Clint Eastwood film by singing,
According to original lyrics by Frozen's Robert Lopez and Kristen Anderson-Lopez posted on Playbill, however, the line was actually supposed to read less ambiguously as "a hero of Afghanistan." The change was first noticed by blogger, Christian Toto, who also notes that it may have been a factual edit since Kyle served in Iraq, rather than Afghanistan. It's a seemingly subtle, practically minuscule editorial choice. Yet, the purposeful omission of the word, "hero" could also be seen as a huge statement and taking a side in a volatile public debate surrounding the patriotic-themed film.
American Sniper has been mired in a number of controversies in recent weeks, with issues surrounding the current trial of Chris Kyle's accused murderer, and unsavory accusations about the money the Kyle family has earned from the book and film. However, most notable since its early release on Christmas day, the film has provided plenty of tinder for a fiery political debate ranging from topics of the Iraq War, to a philosophical argument as to whether there is any morality to being a sniper in the first place. Such a narrative has been fueled primarily by the lightning rod-like comments from partisans like Jesse Ventura and Michael Moore, who specifically criticized the status of military snipers being called "heroes" - instead calling them "cowards." It's an idea that has been passionately rebuffed by supporters of Kyle, continuing a back-and-forth volley of ideology-draped rhetoric from both sides of the spectrum.
I can't speak for Neil Patrick Harris, Robert Lopez or Kristen Anderson-Lopez, or the motivations behind the alteration, but one can imagine that this lyric change is one that would have gone completely over the heads of anyone who was not acquainted with the tempestuous debate about American Sniper that has been raging its way across the headlines for the past few months. Unless other evidence comes to light, this should probably just be chalked up to another byproduct of the quick-to-react political atmosphere.
Your Daily Blend of Entertainment News
Thank you for signing up to CinemaBlend. You will receive a verification email shortly.
There was a problem. Please refresh the page and try again.