Watch Neil Patrick Harris Strip For The Oscars' Wonderful Birdman Tribute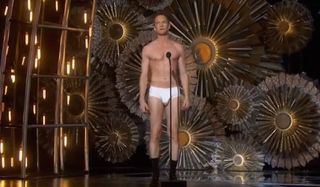 If you thought watching Michael Keaton march through Times Square in his tighty whities in Birdman was entertaining then you will most certainly be able to appreciate this little gem featuring the host of the 87th Academy Awards. Watch as Neil Patrick Harris re-enacts the iconic scene from Alejandro González Iñárritu's latest masterpiece.
In the above video, NPH can be seen in a focused pace as he makes his way through the backstage area... a man on a mission. Just like Keaton in Birdman, the host almost seemingly unconsciously signs away autographs as he makes his way toward the stage. It was hilarious watching NPH pull off this spoof with almost beat for beat perfection. When the jazz-based drums kicked in, the mock Birdman skit took things to the next level, integrating in a very recognizable face from another of this year's Best Picture nominees. That moment when they pulled in on Miles Teller banging away on the drums, only for NPH to get right in his face and declare "not my tempo," hit comedic perfection.
Miles Teller absolutely nailed his bit part in the above skit, just as he did playing his jazz drummer character Andrew in Damien Chazelle's Whiplash.
But it wasn't until the almost-naked Neil Patrick Harris arrived onstage in front of the room full of Hollywood A-listers that the scene reached its comedic peak. Wearing only his white undies, matched awkwardly with black dress shoes and socks, Harris uncomfortably approached the microphone.
The crowd was filled with ecstatic energy as the fearless Oscars host prepared himself for words. Getting Michael Keaton's reaction was totally key by the way, so nice job Academy cameramen and production crew.
This was certainly one of the funniest moment of the night, thanks to the daring nature of the How I Met Your Mother star. Really, is there any challenge NPH won't take on? Need I remind one of his character Desi Collings' final moments in David Fincher's Gone Girl. One word—brutal.
It's bits like the one above that remind us of why Harris continues to get hired as host of the Tonys, Emmys and now the Oscars. He's sincere, he's funny, he's brave and most of all he's entertaining.
Your Daily Blend of Entertainment News