Paper Man Trailer: Ryan Reynolds Is An Imaginary Superhero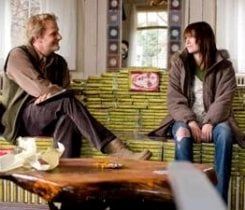 What does it say about someone when they have an imaginary friend? Are they crazy or just plain lonely? In Paper Man, Richard Dunn (Jeff Daniels) is a semi-washed up author who has his own not-so-little secret friend: the spandex-clad, underwear superhero Captain Excellent (Ryan Reynolds). In the just released trailer, Richard heads to the country for some peace and quiet on a directive from his wife Claire (Lisa Kudrow). He needs to get his writing on track and, against her wishes, spend some time with the dressed-in-tights superhero from his imagination. Along the way he actually makes a real friend in Abby (Emma Stone) who's only seventeen, but has a secret friend of her own (Keiran Culkin).
Judging from the trailer, the movie is less about Ryan Reynolds as faux-superhero and more about Dunn's search for something real in his life. The reality doesn't come in the form of a love interest, but in someone who may actually understand him (even if she is just a teenager). Jeff Daniels (channeling just a tad of his previous role as Harry Dunne) is the quintessential dopey realist, and looks totally believable as a man struggling with life while trying to make sane choices. Those choices come in the form of asking Abby to babysit for him even though he doesn't have a baby, throwing a party for the local high school crowd and making a couch out of his unsold novels.
Paper Man is the first writing and directing foray for husband and wife team Kieran and Michele Mulroney and is scheduled for limited release in two weeks. Check out the trailer below.
Your Daily Blend of Entertainment News
Doug began writing for CinemaBlend back when Terminator: The Sarah Connor Chronicles actually existed. Since then he's been writing This Rotten Week, predicting RottenTomatoes scores for movies you don't even remember for the better part of a decade. He can be found re-watching The Office for the infinity time.