Paramount Becomes The First Studio To Kill Film Print Releases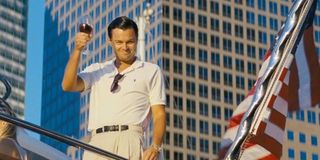 The age of film stock is quickly coming to an end. And it turns out last December provided one more nail in 35mm's coffin as Paramount Pictures became the first studio to commit to cutting off production of film prints for their new releases.
The L.A. Times reports that Paramount notified theater owners nationwide that Anchorman 2: The Legend Continues is the final Paramount release to be rolled out on film stock. From here on out, it's all digital. The studio followed this up with the debut of Martin Scorsese's The Wolf of Wall Street, making the five-time Oscar-nominated biopic the first major studio film to be released only on a digital format though it was shot partially on film. It's expected that Paramount's declaration will signal other studios to follow suit. 20th Century Fox had previously warned theater owners that they expected to abandon film prints by 2013 or so, while Disney has been reportedly eying this move as well.
This isn't a shocking development. The advent of digital technology has been nipping at the heels of 35mm since the early 2000s. Making for easier transition to computer generated visual effects and cheaper production costs, digital options became coveted by many filmmakers old and new. James Cameron's embracing of digital filmmaking and digital projection proved a major influence in Avatar's release. And the blockbuster's astounding popularity urged many theater owners to upgrade to digital projectors. By 2011, three of the world's leading film camera manufacturers (Arri, Panavision, and Aaton) stopped production on film cameras all together. At this point, experts at IHS Screen Digest Cinema Intelligence Service declared the end of 35mm projection was very near.
Because of the romantic attachment many movie lovers and filmmakers have to 35mm, it's suspected that studios have been holding off on completely shutting down 35mm production, not wanting to be the first out of the gate. But really, this was inevitable. Digital projection has taken over with 92% of 40,045 screens in the U.S. theaters having been converted to digital projection. This transition has been in the works for about a decade, with studios helping exhibitors to finance the up front costs, that in the long run would make delivering hard drives or satellite signals considerably cheaper than shipping bulky, fragile film prints. With this news, the price of film stock will continue to rise, as more of its makers shut down production hubs.
Director of the UCLA Film & Television Archive, Jan-Christopher Horak, said of Paramount's proclamation: "For 120 years, film and 35 mm has been the format of choice for theatrical presentations. Now we're seeing the end of that. I'm not shocked that it's happened, but how quickly it has happened."
Basically, if you prefer film to digital, enjoy it in theaters while you can.
To learn more on how film went digital, check out Side by Side, a documentary that features a wide array of filmmakers talking about each medium's pros and cons. It's on Netflix now. (opens in new tab)
Staff writer at CinemaBlend.
Your Daily Blend of Entertainment News
Thank you for signing up to CinemaBlend. You will receive a verification email shortly.
There was a problem. Please refresh the page and try again.