Paranorman Comic-Con 2012 Panel Live Blog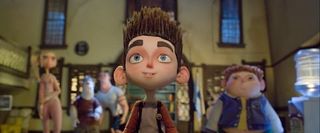 Focus Features has the 3D stop-motion comedy thriller ParaNorman set to arrive in theaters later this summer (August 17). We'll be live-blogging the panel here at Comic Con today, which is set to feature stars Kodi Smit-McPhee, Anna Kendrick,Christopher Mintz-Plasse, Travis Knight, Chris Butler, and Sam Fell as they discuss the making of the movie. New footage from the movie will be shown and EW's Dave Karger will be on hand to moderate the panel.
From animation company LAIKA, ParaNorman follows Norman (Kodi Smit-McPhee), a misunderstood boy living in a small town, who has the ability to speak with the dead. As his town is on the verge of a zombie invasion, this skill may prove to be vital to surviving the siege. It should be interesting to see what they have to show us from the film at the panel today, and hear what the cast has to say about the movie, which looks like a lot of fun.
10:47 a.m. - The panel is beginning with a screening. Be back in a few with an update!
Video - Begins with Norman getting up for the day. His parents dont get him. His sister doesn't like him. Kids at school pick on him. Most of his friends are of the dead variety. He sees ghosts and other deceased beings. A bearded ghost meets him in a bathroom stall. A witch's ghost is going to wake up and raise the dead. Norman has to use his gift of talking to the dead to stop it! To save his town, he'll need help ("and a whole lots of guts.") "This summer, you don't become a hero by being normal. I'm pretty sure we've seen either this trailer before or at least, this footage was shown in other trailers. Either way, it looked great in 3D and the movie looks funny, charming and just a little bit spooky.
10:52 a.m. - Moderator Dave Karger has taken the stage. Introducing the panel: Travis Knight, Sam Fell, Chris Butler, Kodi Smit-McPhee, Anna Kendrick, and Christopher Mintz-Plasse. The last two got the biggest applause. Question goes to Chris Butler. He says this movie has been sixteen years in the making ("Not all the time," he says. "On and off, I dip into it.") They started actually making the movie about three years ago. Butler references The Goonies and Ghostbusters when talking about inspiration. Describes this as John Carpenter meets John Hughes. Travis Knight says the idea was a stop-motion animated zombie film. "Two great tastes that taste great together," he says. "A gumbo of our collective childhood loves and obsessions." He also says its a beautiful, poignant and moving story.
10:57 a.m. - Sam Fell is talking about American pop culture coming over to England in the 70s and 80s. References Stand By Me. Talks about a mixture of humor and scary. References Gremlins there. (Seems like they have some great influences for this movie!) Kodi talking about putting on an American accent and says halfway through the movie his voice-dropped, so Norman's voice doesn't even really sound like him now. Anna Kendrick says this is the first time she did animation. She was really nervous. She's always wanted to voice an animated character but she thought it would be a challenge. She says she looked "like a pretty big tool" doing the voice of her character because she wasn't focusing so much on how she looked during the production. She got up to demonstrate her knee acting. (Couldn't see behind the table).
11:01 a.m. - Mintz-Plasse says his character is the fat version of him. Now they're going to show us some more footage. It's a featurette showing some moments from teh previous trailer and a few new moments and behind--the-scenes bits. Creating the models. A scene where Norman is surrounded by zombies in a wooded area. Looks a bit scary. Lots of zombie growling. "This is awful!" Kendrick's character says as zombie mayhem ensues around her. "The zombies are like eating everyone!" Lots of running and action scenes. A zombie clinging to the roof of a car. Normal standing on a stage announcing that "The dead are coming!" Very Paul Revere. That's where the video ends.
11:08 a.m. - Kodi talking about the crew working on the movie. He's impressed by their patience. Anna Kendrick took lots of pictures of the the set. She says it's so well detailed. She said she got to stomp around the set like godzilla taking photos of the set when they were done shooting. And we're getting a 3D clip. It's at about the beginning of the second act. Norman has to read a book in the graveyard, which he's been trying to avoid doing. Will update in a few. The book he's given turns out to be a fairytale. Alvin comes to bully him and takes the book. Behind Alvin, a huge creepy green smoke-cloud looms up. It has a face and then turns into lots of hands. The smoke-hands swoop down and slam into the ground cracking it. The ground breaks and a skeletal hand emerges. The dead are rising! Norman and Alvin are surrounded by rising bodies. One comes up and roars. That's where the scene ends. The whole scene was animated by Travis Knight.
11:14 a.m. - Chris Butler says he was adamant that this movie had a strong ending. Sam Fell talking about the zombies and trying to find a balance of damage among the zombie's bodies. Missing arms and that sort of thing. Kodi said he saw the first scene for the movie and he was amazed, but before that, all he had to see of his character was a little puppet. Mintz-Plasse says he was throwing his arms around while doing the voice and that made it into the movie. And they're showing us another clip!
Norman has fled from the graveyard with Alvin. He bumps into his sister Courtney and some other people. This is the start of the big van chase. Will update in a few! Courtney's annoyed that her brother is causing problems. Then the zombie's hand comes through the roof of the van they're all in. A cop is riding a motorcycle behind them. She pulls up and tells them to pull over. Courtney's telling Norman he better think of something quick. Norman is holding the book and says "I have an idea!" and that's where it ends. The graveyard scene was intense. This one was more exciting and fun.
11:20 a.m. - They're talking about the Scooby-Doo vibe to the scene. Comments about how everyone in the van is so different, which is why they're all bickering. Now they're discussing the technology. Travis Knight talking about using 3D printers to make the models for the movie. "At some point we're going to be able to clone humans with this thing," he says. "It's very scary." It sounds like the 3D printer is very useful for their purposes in making a stop-motion movie.
11:23 a.m. - Mintz-Plasse says the directors loved when he did high-pitched voicing. Mintz-Plasse says he'll sing "Season of the Witch" if Kodi dances. Kodi's doing some popping and locking while Mintz-Plasse did a sort of rap that sounded like Eminem's "My Name Is." It was funny. Looks like the cast has fun with each other. Kendrick is talking about working with Casey Affleck. She says by the end of the day she and Affleck were sort of competitive with their voice-acting when doing scenes together. They're joking about Kodi having to make a shaky voice.
11:26 a.m. - Fan questions! A little girl asks what's next for LAIKA. Travis Knight says they have a number of things (adaptations and originals). Says they'll probably be making an announcement for the next project in a couple of months. First two questions are from adorable little girls. Microphone isn't working so we're waiting. The questioner is a little girl in a unicorn costume. She's very cute. She asked why the monsters were so scary. Answer is that the monsters are "quite sad, actually" and more silly than scary. Suggested age for this movie (per Sam Fell) is ages 7-8 and up. "Every parent knows where their kids at with what they can take," Fell says.
11:30 a.m. - Kodi says this film is a little bit scary. He loves animation and he loves horror. Next question is if the cast puts a part of themselves in their characters. Mintz-Plasse jokes he's always wanted to beat the crap out of Kodi. Kodi says he put being skinny into this character. Kendrick says this was the first job she thought she got because of Twilight (she plays a bratty teenager in Twilight), but they said she got it because they listened to her voice in interviews.
11:33 a.m. - There's a vulnerability in Chris' voice as the bullying character Alvin. They used the same casting director as Freaks and Geeks (that got some applause). They looked at F&G as far as the physical performances the kids did, especially for Norman.
11:35 a.m. - Christopher Mintz-Plasse says it's looking like Kick-Ass 2 is going to happen. Looking like it's going to start shooting in September.
11:37 a.m. - Travis Knight talking about the grueling work that goes into stop-motion animation.Fell says with VFX and green screen the filmmaking is getting more sophisticated. They can tell bigger stories. "The amazing thing about it is that every shot is a one-time-thing. It's lightning caught in a bottle. Slowly," Fell says. "There's a simple magic to inanimate objects being brought to life." Butler says he likes the limitations of stop-motion. "You have to really know what you're trying to achieve with it."
11:39 a.m. - Final question - They spent the longest time on Norman. Butler says Norman was based on him but he enjoys writing Kendrick's character and channeling his inner 15-year-old cheerleader. And that's it! Movie comes out next month. After what they showed us here and hearing about what went into making it, I have high hopes for this one. More information on Paranorman can be found in our Blend Film Database.
Your Daily Blend of Entertainment News
0
Assistant Managing Editor
Kelly joined CinemaBlend as a freelance TV news writer in 2006 and went on to serve as the site's TV Editor before moving over to other roles on the site. At present, she's an Assistant Managing Editor who spends much of her time brainstorming and editing feature content on the site.
Your Daily Blend of Entertainment News
Thank you for signing up to CinemaBlend. You will receive a verification email shortly.
There was a problem. Please refresh the page and try again.