Pariah Director Dee Rees Talks Spike Lee's Influence And Telling Personal Stories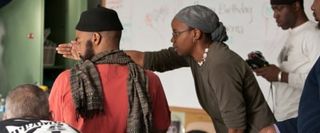 One of the last releases of 2011 was also one of the most personal and powerful films of the year, Dee Rees's feature directing debut Pariah. Inspired by her own experiences coming out as gay in her 20s, the movie follows a Brooklyn high school student named Alike (Adepero Oduye), who goes with her friend to gay clubs but is closeted to her family, including her mother (Kim Wayans) struggling to connect with her and her father (Charles Parnell) who suspects her true identity. The fact that Alike is also black makes Pariah not just a heartfelt and revealing film, but one that highlights a character almost never seen on film-- a gay, African-American teenager.
Rees's film premiered at Sundance last January (Matt Patches interviewed her there as well) and wound its way through several festivals after being picked up for distribution by Focus Features. I talked to her in September at the Toronto Film Festival, where we discussed the way Spike Lee has served as her mentor, how she traded in a corporate life for film school, and why the title Pariah might be setting you up for a more grim film than it really is. The movie is out now in limited release.
How did you pick the title? It feels a little harsher and less funny than the film is a lot of the time.
That, to me, conveys the characters's state of mind. She feels like a pariah. Though the title may seem kind of harsh or negative, I think through the film we see how all the characters in some way are a pariah. I think the film is not what you expect, so we want to subvert the audience's expectations at every level.
Do you worry about people going in thinking the movie will be dark and melancholy, or do you like that they can be surprised by it?
I don't worry about it. I think once they get into the character, if they make it through he first song, they'll be good. Art is subjective, so you can't control how people think about it anyway.
The first act of the movie made up the short, right? Has that part changed at all since then?
When we did it for the short, we tweaked the ending and moved it up, obviously. Pretty much it's the same. As we workshopped it at the Sundance writing lab I tweaked some things between the parents, but it's pretty true. I wrote the feature in 2005. I had just quit my job-- I'm like on my second life. I started out MBA working in corporate America, and three years, three cubicles later I thought "OK maybe it's not the job, maybe it's me." I quit and went to film school. I wrote this while I was doing an internship on a Spike Lee set. I had this 140 page monster and wasn't sure what to do with it. I was going to NYU Film School and needed a thesis film to graduate, and shot the thesis as a short film. As the short got attention we were able to go back to the feature.
So by the time you were writing this you were fairly removed from high school. You had some distance from it.
Yeah. I didn't come out until my late 20s. I look young, but I'm not young. As I was coming into myself, writing this was kind of cathartic. I see these out teenagers who are out at 17. Even if I had known at 17, would I have had the courage to be that person. What if that had happened at 17 instead of 27, how would things be different. It's a greater risk, she still lives with her parents. She does't want to hurt anybody, she's still trying to be what everybody wants her to be.
Did you know any gay teenagers, or did you have to hunt some down to figure out what they're like?
We did some early workshops with kids from the Harvey Milk drama school, but I just kind of intuited. I didn't do a lot of research. Just through living and observation. I was cooing out at the time ad going to clubs and thinking I wasn't part of the scene.
There's the coming-of-age part of the story, and then also the strong mother-daughter element. Was that always a thread from the beginning? Because it's not just how she relates to her mom, it's her mom's story too, which is an interesting twist on that formula.
It goes back to the idea that everybody is a pariah. I didn't want Audrey to be this one-dimensional villain. She has her own pressures. Audrey at her core is a lonely woman. If her husband would just make love to her, none of this would happen. I was just trying to show how each parents has their own struggles and their own social pressures. Because of those pressures they impose these restrictions or taboos on their children. Each parent deals with that differently in respect to Alike.
You've said that when you were trying to finance the movie, people said it was too black and too gay. Was that part of why you wanted to tell this story, because it was so difficult to get out there?
It was just a story I wanted to tell. Writing it was an expression of my own coming out. Getting it out there was willpower, feeling this is a universal story about identity and it has to be told. It's not even about coming out, it's about how to be. She loves women, that's clear, it's about how to be that. We didn't make the film to prove anybody wrong or spite anybody, it's just a story that needs to be told.
But a surprising amount of people see this and are like "Oh, there are clubs just for black lesbians?" It must feel good to kind of lift that veil that a lot of people don't even know exists.
Yeah, but we didn't want to explain the world to anybody. But we wanted to push the audience in and trust them to get it. The audience is smart, and we didn't want to overexploit and have it be a trip to the zoo. We wanted to give them a first-person experience of how Alike is feeling in these different worlds.
Did any particular directors inspire your style?
I like Cassavetes, his very realistic style. I like Friday Night Lights the TV show, it has a very organic, handheld feel. [Cinematographer Bradford Young's] idea was to not have the lights inhibit the actors, so he built his own lights. It's the idea of letting it flow and not having the process inhibit the image or the performances, and just really feel like we're there with Alike.
Did that involve improv from the actors?
Kind of guided improv. We gave them plant lines. I like that because it keeps the actors on their toes and keeps them listening to each other.
Did you do anything to help your cast come together before shooting began?
Instead of a traditional rehearsal, for a family we had a mock psychotherapy sessions. I had a therapist come in and do a session with them. To me that did more to crystallize the relationships than any amount of rehearsal. I'm concerned with them understanding the relationships and why they're acting a certain way. Once they understand the why of it, then everything else is imbued with a subtext and meaning.
What did you get from interning for Spike Lee?
He's been a mentor, and growing up, he was one of the first black directors I became aware of, because he was so visible in front of the camera. On Inside Man I was interning for the script supervisor, which was great because you're right by the camera. You get to see him talk to the actors, you get to see him talk to the camera department, lens notes, distance, all that. From that I got a good sense of process, and having a good sense of family on set. The people on Inside Man were people he had been working with for years and years. I've never been on a set with that many black people, that many brown people. I wanted to create a production family like he did.
Do you feel like you can control your work like that? A lot of people make a personal film like this, but then get thrown on to a production they have far less control over.
I hope to control it by just choosing the material that I love, and hopefully being able to continue doing my own work. Material drives everything, material attracts the talent. Secondly, I'll continue to work with people who work with me. Everybody who's been a part of this I hope to continue working with in the future.
Staff Writer at CinemaBlend
Your Daily Blend of Entertainment News
Thank you for signing up to CinemaBlend. You will receive a verification email shortly.
There was a problem. Please refresh the page and try again.