Patrick Stewart Has The Perfect Response To Reprising His Star Trek Role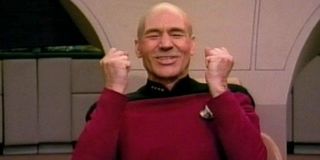 Before Patrick Stewart got a Twitter account and taught the world how to really use social media, he was known around the world as Captain Jean-Luc Picard. Under the guise of this character, Patrick Stewart starred in 176 episodes of Star Trek: The Next Generation and four Star Trek films. And now he's suggesting that he'd like to return for another film.
During a Facebook Q&A ahead of the release of his new film Match, Patrick Stewart was asked whether he would ever revisit his role as Jean-Luc Picard in a new Star Trek film. And the beloved English thespian was optimistic with his answer …
But would anyone really like to see Patrick Stewart portraying Captain Jean-Luc Picard once again? Sorry, that's the stupidest question that I've ever written. Patrick Stewart instantly makes anything umpteen times better with his presence. Just look at him. He's godlike. In fact, I seriously think that it's impossible to hate Patrick Stewart even a smidgen. Not only does he deliver wonderfully poetic answers to hypothetical questions, but he's also responsible for the greatest series of memes to have ever hit the internet. And it's all because of one fantastically well-acted scene. Sit, watch and enjoy Sir Patrick Stewart simply being superb.
Because of this supreme performance, Patrick Stewart went on to feature in a number of perfectly pitched memes. At this point I will tell you to type in "Patrick Stewart, Star Trek GIF," to your local browser. There are literally hundreds of thousands of examples to choose from. And they are all sensational.
Is there actually any chance that Patrick Stewart will once again step aboard the USS Enterprise on the big-screen though? It's highly unlikely. J.J. Abrams' Star Trek reboot set the franchise off into a brand new direction that is hip, modern and fantastically entertaining. Most importantly though it has already incorporated William Shatner's James T. Kirk and Leonard Nimoy's Spock into its narrative. To try and feature Picard too would only add to the confusion. But make no mistake; if he did pop up in Star Trek 3 then it would be the best cameo of all time. Someone should really start a petition to make it a reality. Plus if he popped up in Star Trek 3 and William Shatner didn't, then I'm pretty sure Shatner would end up going certifiably insane. I can already picture the vitriolic tweets and blogs that he would send out to the world.
Your Daily Blend of Entertainment News